Swab up the facts on applicator handles.
Learn all you need to know about swab handles in the next 6 minutes!
So… What Are the Different Types of Swab Shafts?
From collecting a throat culture to cleaning a wound, swabs have countless applications in the medical field. They're also used to collect DNA and perform microbiological tests, by hobbyists painting china plates or other highly detailed work, for cleaning guns, and to rid print heads on wide format printers of unwanted residue.
Swabs and applicators are among the most versatile products used across a variety of industries.
Yet, when swabs and applicators come to mind, most people only think of one type. In fact, there are dozens of different options available, for the very reason that there are so many distinct purposes for these handy tools.
In addition to choosing the size of the applicator as well as the tip material, you can also select the material for the shaft based on the most appropriate fit for your unique needs.
Here, we'll discuss the four main types of applicator and swab shafts, as well as the unique properties of each:
Paper Shaft Swabs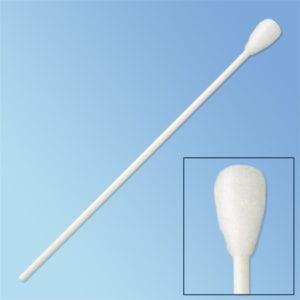 If you've ever had a lollipop, you can imagine what an applicator with a paper shaft might look and feel like.
They're typically white in color and are smooth to the touch. You can choose your option for paper shaft applicators based on your application, taking into consideration the length and tip type you'll need.
Paper is among the more basic materials available for swab shafts. With smaller tips, it can be used for cleaning sensitive components in critical environments, as the materials are anti-static.
Paper shaft applicators with larger tips can be used in some medical applications, such as gathering specimens during exams, or collecting cells to perform laboratory research. In general, paper shaft swabs are also ideal for cleaning hard-to-reach places throughout offices and other workplace environments.
Wood Shaft Swabs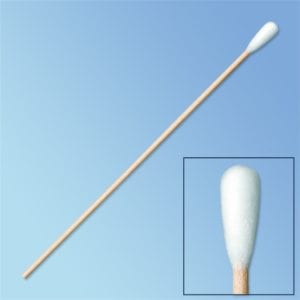 Like paper, is also considered to be a "no-frills" option for shaft material in swabs and applicators. Most wood is sourced from birch trees, making them a sturdy and inflexible choice for industrial environments.
Some medical offices also select wood shaft applicators as materials for cleaning minor abrasions and similar practices.
Because it doesn't take much force to fracture wood, this particular type of applicators is not recommended for applications in which there's a risk of breakage.
Since these shafts are made of natural materials, there's always a risk that they can introduce dust or contaminates into the environment. Thus, wood shaft swabs are not intended for use in cleanroom environments.
That being said, wood swab shafts are an excellent, budget-friendly choice for basic applications. There are sterile wood swabs that can be used in many medical applications.
There are some types of wood shaft swabs that do boast low particulates for cleaning sensitive components. Like the other types of shafts listed here, they are available in varying lengths and quantities, and they can also arrive pre-packaged to prevent the risk of contamination.
Plastic Shaft Swabs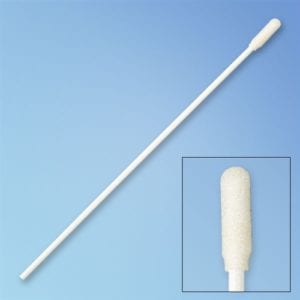 Plastic shafts are a step above wood and paper for a number of reasons. First, they have non-porous properties and will also not produce dust or contaminates, making them ideal for sensitive environments. Additionally, they are more flexible than wood, and you can even break them cleanly if needed.
Because they are synthetic, plastic shaft applicators are ideal for collecting microbiological specimens. They are also widely used in hospitals, clinics, and doctor's office for patient care purposes, such as wound dressing and cleaning. They also are a go-to choice for collecting cells for DNA testing.
While the most common type of plastic used in applicator shafts is polystyrene, some users prefer a different type of plastic: polypropylene. While it is also a synthetic material, it's quite different from polystyrene because it is much more resistant to breaking.
In industrial settings, many companies choose to go with polypropylene due to its increased level of durability. Of course, users who simply want the peace of mind in knowing the applicator shaft won't break can also use this option in other environments as well.
Metal/Wire Shaft Swabs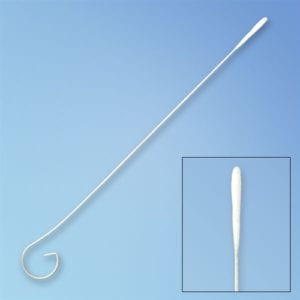 Lastly, we have the type of applicator shaft that's perhaps the most unique of all: metal wire.
Wire shaft swabs are most commonly found in healthcare environments. The diameter of the shaft can be designed to be much smaller than that of wood, plastic, or paper. For situations in which a standard swab would be too large, the fine-diameter wire shaft swabs come in handy.
Aluminum is commonly used in swab shafts due to its malleability. In medical situations where cells must be collected from sensitive areas like the ear, nose, throat, or other sensitive areas, the flexible, small shafts are useful for ensuring patient comfort. Additionally, these applicators fit well into transport tubes to make examination and lab testing seamless and hassle-free.
Wire shafts are more flexible than other materials, so be sure to take that into consideration when choosing the right type for your needs. Additionally, they should not be used in any environments where conductivity might pose a risk.
What Swab Handle Do You Need?
With so many different options available, it can be challenging to know which type of applicator shaft is best for your needs.
To help you decide, we've come up with a brief list of questions that should help narrow down your choices:
In what type of industry or environment will you be using the swabs?
Is conductivity/ESD a concern?
Will you be collecting cells from a person? If so, from a potentially sensitive area?
Where will the specimens be sampled onsite or at a lab elsewhere?
Do you need to worry about dust or contaminates?
How durable do you need the applicators to be?
If you're still overwhelmed with your choices, you can always start by visiting Harmony Business Supplies and searching for swabs based on your intended use.
You can choose among the following purposes: critical environments, fiber optic cleaning, forensics, gun cleaning, print head cleaning, sign machine cleaning, and crafts and hobbies.
A broad range of sterile swabs intended specifically for healthcare environments is also available. For convenience, many types of swabs can also be purchased in varying quantities.
No matter your unique needs, there's a swab out there for you! Just visit Harmonycr.com to find the right swab for the job, or give one of our supply specialist a call and we'll help you find the right swab for your needs.