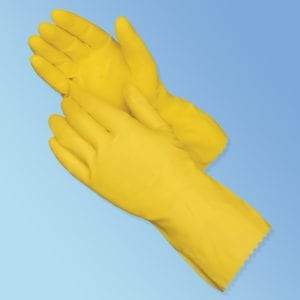 You don't need to get an A in Chemistry Class to understand that there are tons of kinds of chemicals in the world. Over 60 million kinds of chemicals are registered with Chemical Abstracts Service (CAS) system. From these, about 80,000 are subject to utilization by various industries.
The Chemistry of Chemicals
Chemicals simply co-exist with many industrial operations today. Whether in manufacturing, automotive and electronic production, pharmaceutical, medical, and chemical laboratories, and even in agricultural industries, these chemicals are essential for daily process and are proven to be beneficial for the business.
It is said that 'with great power comes great responsibility', the saying is also true with chemicals. Handling these powerful elements certainly require a great amount of accountability. Why? Because there are certain chemicals that are corrosive or can cause visible destruction or permanent changes in human skin tissue at the site of contact. These substances can cause harm if not handled correctly.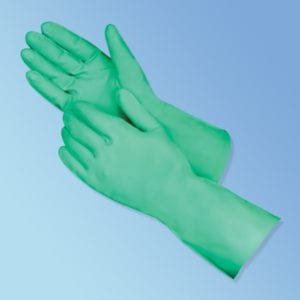 Ideal uses for chemical resistant gloves include food processing, automotive, metal fabrication, scientific research, and other areas of industry.Because you are handling powerful elements, wearing chemical-resistant gloves is one great way to demonstrate responsible chemical management and protect yourself, and your employees. Think of chemical-resistant gloves as Batman's costume whenever you're wearing it. Wearing protective gear helps to protect workers from injuries and helps save money and bad reports from accidents. Now that's super!
Characteristics of Good Chemical Resistant Gloves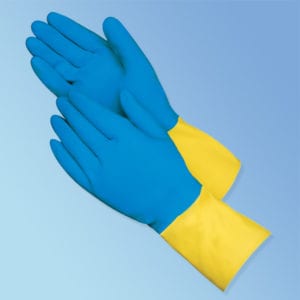 It is important that you opt for chemical-resistant gloves that have these essential attributes:
Comfort
This is probably one of the first things that workers would consider as to whether or not they would wear chemical-resistant gloves. The level of comfort in wearing gloves can really affect how long one can bear to wear it. If the gloves offer poor level of comfort, workers are likely to remove them even if it means working with no protection at all. So make sure you invest in gloves that offer high levels of comfort. Besides, a 'comfortable' worker is more productive than one that is not.
Performance
Questions that you need to ask when opting for chemical-resistant gloves are 'Is it making handling too slippery? Is it slowing down the hands' mobility? Does wearing it make it more or less difficult to do the job?' Even if the gloves offer comfort but still fail to give high level of performance, it would still not be as helpful as it ought to be.
Protection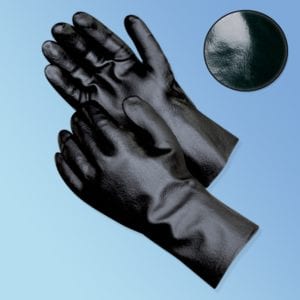 Finally, consider the gloves' level of protection when handling corrosive chemicals. The very reason why chemical handlers are required to wear chemical-resistant gloves is to protect them upon contact with the substances. This is why it is essential that you choose the kind of gloves with a high level of protection against chemical contact such as acids. Keeping your hands protected from chemical injuries and irritation means wearing the right glove for the job. We offer chemical resistant gloves that can be used for any work application, from cleanup to directly handling harsh and hazardous liquids. Keep workers' hands safe while providing dexterity and comfort needed to improve productivity.