🌟 Duraskin Black Nitrile Gloves stand up to long sessions with more puncture resistance and comfort than standard latex.
🌟Safe & Comfortable Black Nitrile conceals ink stains, dirt, and grime.
🌟 Maximize Grip with Micro-roughed, Textured fingertips. Ideal Protection for Precision Tasks.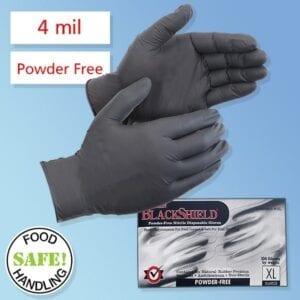 1. Great Puncture Resistance
Tattooing requires one to wear resilient gloves that can last for longer sessions. FDA has approved most black surgical gloves for medical use. Thus, it makes them the best alternative when working in areas prone to contaminations like spas, salons and tattoo parlors.
Based on tattooing risky nature, a dependable glove should protect the wearer from needle injury and other sharp objects in operation. For enhanced protection, tattoo artists may use the double glove approach. Here, one wears a glove on top of another to lessen the chances of getting poked by sharp objects.
2. Protect Against Ink and Contamination
The primary purpose of wearing a reliable glove is to offer a splendid protection barrier between the client and the tattoo artist. Repeat exposure to tattoo dyes may put the artist's health at risk.
Black surgical gloves give the much-needed shield and prevent contact with any form of contamination. Since it is durable enough, it ensures that the artist works at ease without the fear of the gloves wearing out in the middle of a session.
The best glove to use is the powder-free option, as they are non-allergenic to those with sensitive skins. Also, they play a significant role in reducing the spread of allergens.
3. Maximize Grip
Surgical gloves go through a specialized process that allows them to grip the wearer's hand without straining it.
A high quality glove should not affect the hand sensitivity of a tattoo artist. Instead, it should fit comfortably regardless of the hand size. This allows professionals to carry out even the most delicate tasks with accuracy.
Black surgical gloves have a low friction texture that makes it easier and flexible to use. They also have a firm armband that puts them into place without rolling down the hand. Most manufacturers make tattoo gloves in nearly all sizes.
So, ensure that you get the right size for your hand before buying for a comfortable experience. Check your precise glove size from the dimensions printed on a medical size chart.
4. Conceal Ink Stains
In the tattooing industry, black is the perfect color to use because of its ability to cover up. Tattooing involves lots of ink spills and bloodstains. The thought of walking into a tattoo shop to find the artist's gloves covered in blood may put people away. Not only is it disgusting but also irritable to clients who cannot stand a glance of a soiled glove.
Black surgical gloves ensure minimal sight of blood or ink is noticeable. For that reason, it may boost the professional appeal of a tattoo shop while displaying great lengths of hygiene.
5. Convenient and Safe
A busy tattoo shop may handle several clients within a day, depending on the intensity of the work required. Disposable black surgical gloves offer the best protection since you can throw them after use.
A trustworthy tattoo artist should strictly one glove on every client. That way, it prevents infections or germs from spreading from one person to the other. Note that gloves offer a certain percentage of protection against sharp objects injury. So, practice extra precaution when handling the needles and other apparatus.
In case you poke your glove, replace it immediately with a new one.
A tattoo glove plays a vital role in ensuring safety between the client and the artist. Any exposure to bodily fluids or contaminants may cause life-threatening health problems. Therefore, tattoo artists should ensure that they use a steadfast barrier that guarantees full protection.
Black surgical gloves come in handy by providing resilient and flexible protection throughout the process. With FDA approval, it depicts the suitability of using them in the tattooing industry.
---