Best Chloroprene Gloves - Neoprene Rubber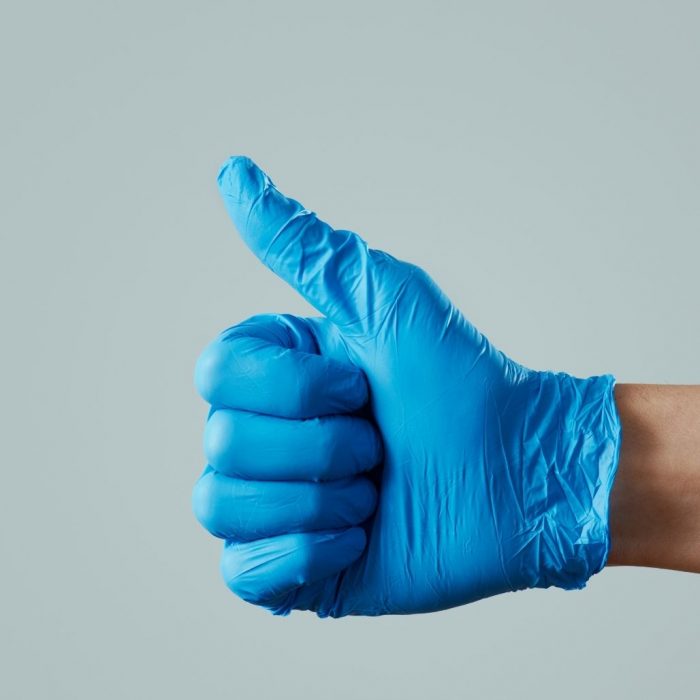 Summary – The best chloroprene gloves ensure tactile feedback for precise tasks and maximize comfort. 
If you've tried latex or nitrile gloves but found them insufficient for your needs, then consider chloroprene.
With its natural feel and fit that conforms to your hand without causing irritation, chloroprene gloves may be the answer you're looking for.
How Do You Choose the Best Chloroprene Gloves?
Chloroprene gloves have been an impacted item by the pandemic and supply chain issues. Many manufacturers have shifted production to focus on nitrile. However, the best chloroprene gloves are still available for those who seek.
Duraskin has decades of experience manufacturing and designing the highest quality safety apparel. In the industrial sector, Liberty is synonymous with safety. Duraskin is one of Liberty's premier brands of disposable gloves.
You may ask yourself 3 questions before buying chloroprene gloves. Because there aren't many options on the market, you may end up deciding on latex, nitrile, or other vinyl alternatives. But for those whose heart is set on chloroprene, these questions are a good start.
How demanding is your applications?
If you only need gloves to use as a base-layer underneath more rugged safety gloves, then 6.0 mil thick chloroprene rubber is more than suitable. This thickness is ideal for all medium-duty activities in the industrial space. 
Chloroprene's natural chemical resistance may provide the protection you need but it is always best to double check your chemical with the manufacturer's specifications. You don't want to find out after it's too late.
If you need heavy duty gloves that provide the highest degree of protection you can find on the market today, then get 8.0 mil thick chloroprene rubber. This thickness is more than suitable for most applications of disposable gloves.
What is your budget?
Chloroprene gloves vary significantly in price due to supply constraints brought about by the pandemic. As the prices vary so do the quality, which is why Harmony Lab & Safety Supplies recommend Duraskin Chloroprene Gloves.
If you need to work within a tight budget, then 6.0 mil Duraksin 2011w are more than suitable for most. 
Do you have latex allergies?
If you have latex allergies, then you can rest easy that chloroprene will not inflame your allergies. Because chloroprene, also called neoprene, is a synthetic material, your skin may react negatively. Many with discomfort find their skin irritated by vinyl gloves as well.
The only way you can be certain is to take an allergy test or to try the glove for yourself. In our experience, chloroprene and nitrile are the best disposable gloves for skin irritations.
What size gloves do you need?
Because of supply constraints, the glove size you need may not be in stock. If you are unsure about alternatives, then feel free to contact us. We work with businesses every day who need to adapt their needs to the variable supply chain.
Top 5 Chloroprene Gloves
SAS Safety Corp. Chem Defender Chloroprene Gloves are an excellent choice for individuals looking for superior protection and durability. These gloves are made of high-quality chloroprene material, offering excellent resistance to chemicals, punctures, and tears.
The gloves are powder-free, making them ideal for individuals with allergies to latex or powder. They also come in a range of sizes to ensure a perfect fit for everyone, ensuring comfort during extended use.
What sets SAS Safety Corp. Chem Defender Chloroprene Gloves apart from other brands is their unique design. The gloves feature a beaded cuff that prevents roll-downs, ensuring a secure fit that stays in place. The textured surface also provides a superior grip, allowing for more precise movements and reducing the risk of slipping.
SAS Safety Corp. is committed to providing high-quality products that meet or exceed industry standards. Their gloves undergo rigorous testing to ensure that they are safe and reliable, making them an excellent choice for anyone looking for superior protection and durability.
Duraskin 2011w chloroprene gloves are suitable for industrial applications. If you have been provided nitrile gloves but find them inadequate for your needs, consider trying chloroprene.
The gloves have a natural feel due to the material's gripping quality. Many nitrile gloves of comparable thickness are not as comfortable for extended shifts, and many plumbers and tradesmen depend on chloroprene for their dexterity when needing fine motor control.
The gloves are made by Duraskin, an eLiberty Glove sub-brand that consistently manufactures quality and have done so for decades. If your business can't decide whether to make the switch, contact us to request samples so your company can determine your employee's preferences and balance with the bottom line.
At Harmony, you will find verified customer reviews, with one customer saying they "feel more like latex" after rating them five stars. You can read more and ask product questions at Harmony Lab & Safety Supplies.
BioSkin Disposable Chloroprene Exam Gloves set a new benchmark in professional-grade protective wear. Made from top-quality chloroprene, these gloves offer a balanced combination of strength, flexibility, and protection.
They're an exceptional choice for healthcare professionals and laboratory workers who require robust barrier protection, including those dealing with potentially harmful chemicals or biohazardous materials.
They offer the strength and durability typical of nitrile gloves. These gloves are also powder-free and available in various sizes, ensuring a safe and comfortable experience for all users, including those with latex allergies.
Duraskin 2012w gloves are made with 8.0-millimeter thick chloroprene rubber to withstand extended shifts in the most demanding industrial applications. The extra-long 12″ design makes these suitable to be tucked into sleeves, microporous coveralls, or other disposable apparel.
Many find that latex and nitrile can cause irritation due to allergies or other skin conditions, which means chloroprene may be your only option for high-quality disposable gloves. Because vinyl gloves don't have a good fit and don't naturally conform to your hand, they risk compromising your tactile feedback.
Your gloves shouldn't get in the way of your work. Chloroprene rubber fits like a disposable glove should, naturally adhering to your hand and giving you the protection you need.
BioSkin Disposable Chloroprene Exam Gloves are a reliable choice for professionals seeking superior protection and optimal tactile sensitivity in healthcare and laboratory settings. They stand out for their exceptional durability and resistance to chemical exposure, making them a go-to option for procedures involving hazardous substances.
Chloroprene combines the comfort and elasticity of latex with the strong barrier protection found in nitrile gloves, thus offering the best of both worlds.
BioSkin is known for its remarkable comfort and fit. Their elasticity and conforming nature allow precise movements and improved dexterity, reducing hand fatigue during extended use.
The gloves also feature textured fingertips that enhance grip, making them ideal for handling delicate instruments or performing intricate procedures.
Conclusion
In conclusion, when it comes to choosing the best chloroprene gloves, the options are vast, yet few stand out as much as the SAS Safety Corp. Chem Defender Chloroprene Gloves.
They effectively marry the strengths of latex and nitrile, combining the former's comfort, flexibility, and tactile sensitivity with the latter's durability and chemical resistance. Their powder-free design reduces the risk of contamination and allergies, and the availability in different sizes ensures a perfect fit for all users.
Whether you're a healthcare professional, a lab worker, or someone looking for reliable protection in handling chemicals or biohazardous materials, these gloves deliver impressive performance and value.
Personal protection should never be compromised, and choosing quality gloves from companies like SAS Safety, Duraskin, and BioSkin makes all the difference. Safety, comfort, and efficiency go hand in hand – make your glove choice count.