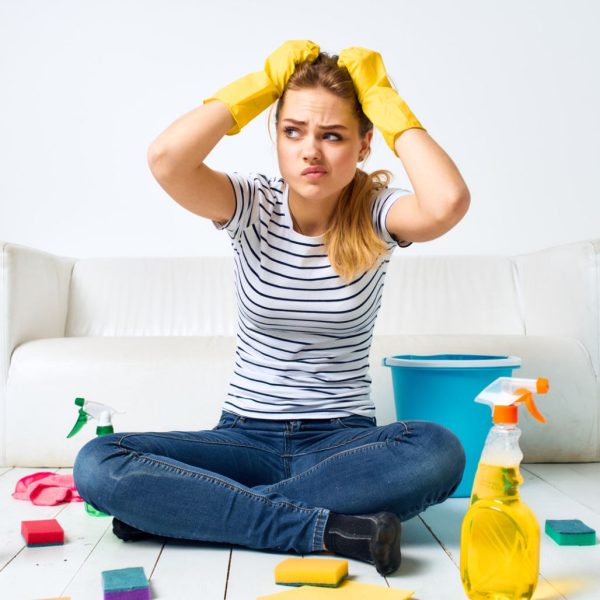 Summary – The best cleaning gloves provide a protective barrier against disinfectants and chemicals. Use chemical resistant nitrile or latex gloves designed for cleaning work best.
These cleaning gloves are suitable for household, office, and industrial applications. We recommend the Ansell AlphaTec® Solvex® 37-175 Cleaning Gloves most often because they have a comfortable lining and extra material thickness for added protection.
Use the quick navigation below to jump to a product or find all chemical-resistant gloves at Harmony. Use the contact form at the end if you have any questions.
How Do You Choose the Best Disposable Cleaning Gloves?
Disposable cleaning gloves keep your hands safe from chemicals found in household disinfectants. Disposable gloves must be chemically resistant and have a thick enough material to resist abrasions and tears.
Both nitrile and latex gloves offer good tactile feedback and robust protection for delicate tasks and basic chemicals. Because disposable gloves are thinner than other gloves listed on this list, they won't provide protection against the harshest chemicals, nor will they be able to handle intense scrubbing and abrasive tasks.
For most cleaning tasks, we recommend gloves thicker than 5.0 millimeters. Most prefer brightly colored gloves for cleaning, but black nitrile also works. If you suffer from latex sensitivities, then choose nitrile gloves.
Why is it necessary to wear cleaning gloves?
The main reason for wearing gloves in janitorial environments is to minimize skin contact with harsh chemicals and potentially hazardous bacteria.
Gloves prevent the spread of germs by providing a puncture-resistant barrier and an easy way to dispose of gloves if necessary.
In the covid era, household cleaning gloves became more famous for disinfecting packages and cleaning to prevent disease spreading.
How do you choose the best cleaning gloves?
Great question! We recommend a pair of thick chemical-resistant gloves such as these yellow latex household cleaning gloves for household jobs. If you really need to ensure chemical protection, then Ansell offers lab-grade protection for your home. 
We recommend disposable gloves for quick and simple tasks because the gloves allow you to have a precise grip for precision tasks.
If you are in a healthcare environment, ensure you change gloves and wash your hands frequently.
Are cleaning gloves reusable? 
Cleaning gloves protect your hands from abrasive materials and chemical hazards commonly found in commercial and household cleaning products. Reusable cleaning gloves can be washed and re-worn without issue as long as the material does not appear to be ripped or torn.
Cleaning gloves can be worn with a base layer glove liner to reduce sweating, but many gloves on this list have a flock-lined interior for added comfort.
Medical infection control products require chemical-resistant gloves to protect workers and patients from infectious disease hazards.
The 3 Best Cleaning Gloves on the Market in 2022

AlphaTec® Solvex® 37-175 offers versatile hand protection for those needing chemical-resistant gloves. These gloves are packed with industry standard certifications well above the requirements to protect you from common household cleaning chemicals:
ANSI A4 Abrasion Resistance
EN 420:2003 + A1:2009; Category III
EN 388 4101X | EN388 2101
REACH Complaint
EN 374 Biohazard Certifications | EN 374 Solvent Certification
The nitrile material is suitable for various applications: handling rough machined metal parts, equipment repair, painting or cleaning, handling incoming goods, opening draining pumps, and transferring liquids. 
Conclusion
AlphaTec® Solvex® 37-175 offers excellent chemical protection with a good grip, fit, and comfort level. 
The 17 mil thickness offers excellent safety protection while still allowing for precise tasks to be performed without risking your safety. The comfortable cotton flocking ensures your hands will be at ease during your time on the job.
We recommend AlphaTec® Solvex® 37-175  gloves for those wanting the best cleaning gloves that protect their hands from harsh chemicals.
Ansell AlphaTec Solvex 37-175 13″ Green Nitrile Gloves with Cotton Flocking
High performance nitrile offers rugged snag, puncture, abrasion, and hazard resistance against a wide variety of chemical hazards.
Flexible and dexterous, with cotton flock lining that absorbs perspiration to keeps hands dry for all day comfort.
Sandpatch finish for a smooth surface that decreases indirect costs, thanks to fewer rejects of fragile parts.
Liberty 2870SL Latex Household Cleaning Gloves are ideal for various uses, including janitorial, dishwashing, and kitchen tasks. The natural rubber material protects your hands from contaminants and chemical hazards.
The latex material is resistant to acids, caustics, animal fats, detergents, salts, and general cleaning disinfectants and supplies. Simply wash off any hazards and use the gloves for months on end.
We found these waterproof cleaning gloves to be most beneficial for washing dishes and light cleaning tasks. These gloves are most suitable for household use, and see customers generally get at least a month of service.
Because these gloves are sold in packs of 12, they offer an excellent value for any household cleaning project.
Conclusion
Liberty 2870SL Latex Household Cleaning Gloves are ideal for light household and kitchen work such as scrubbing and dishwashing. 
The waterproof material holds up to extensive use and will keep your hands safe. 
Don't hesitate to try these out if you need essential household cleaning gloves!
Liberty 2870SL Latex Household Cleaning Gloves
18 Mil Cotton Flocked Lined gloves are extra thick to keep liquids out. Cotton flock lining that absorbs moisture and keeps your hands dry.
Flocked lined latex glove offer excellent hand protection for general purpose cleaning, food service, or light chemicals. 12″ length for added protection.
Embossed Grip on palm and fingers for a sure grip handling of even very slippery objects.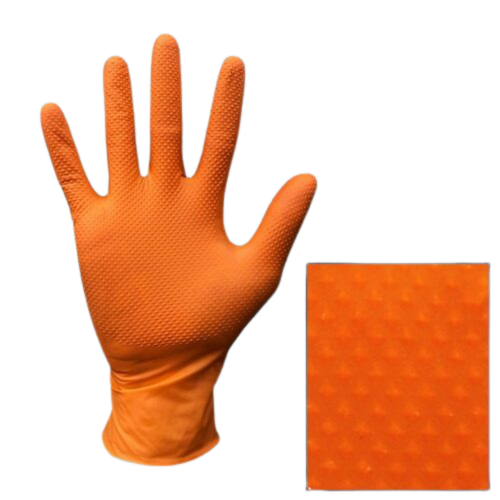 Do you need basic, light-duty, disposable cleaning gloves? Try Grabber Orange Nitrile Gloves as a base layer underneath other cleaning gloves, or use them to tackle light tasks that don't require much protection.
You will appreciate the 6.0 millimeter thick nitrile rubber that naturally conforms to your hands contours and provides good tactile feedback for precise tasks.
Important features include a diamond grip and reinforced fingertips. 
You won't find better 100% latex-free gloves better than these on our current list. Don't settle for lower quality gloves, try Grabber today!
Conclusion
Grabber Orange Nitrile Industrial Grade Gloves are heavy duty with a diamond embossed grip for tough tasks.
Easily visible in low light conditions, mechanics like them for use within engine bays and tight spaces. The material protects against petroleum products.
Plenty of strength for most tasks, you wont be disappointed with Grabber disposable nitrile gloves.
Both household and heavy-duty industrial applications depend on the best cleaning gloves for the job. We rated AlphaTec Solvex 37-175 Green Nitrile Cleaning Gloves as our #1 choice because of its reinforced, extra-thick nitrile material and comfortable lining.
Depending on your needs, other gloves on our list will work too. Latex and nitrile gloves offer overlapping chemical protection but most still prefer nitrile.