Calcium Alginate Tipped Applicator Uses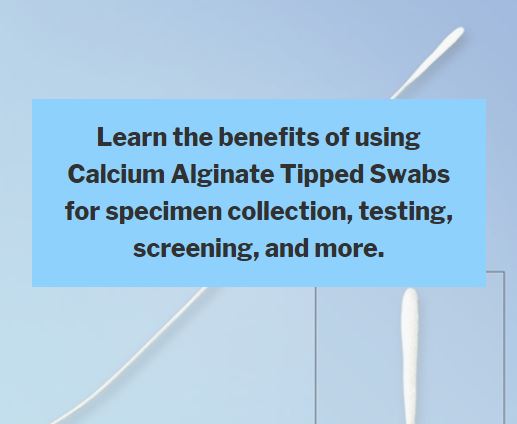 Learn the benefits of using Calcium Alginate Tipped Swabs for specimen collection, testing, screening, and more.
Calcium alginate swabs are ideal for use in diverse medical applications. In general, calcium alginate tipped applicators are manufactured using organic fiber. The natural fiber is derived from beneficial sources like seaweed.
Therefore, the swabs are safe for use and free from latex, which can cause allergic reactions among patients with hypersensitivity.
These products are suited for universal use in medical practices. Calcium alginate is also a biodegradable material.
This property is beneficial because there will be no foreign materials left on a patient after use for a prolonged period.
The fibers will be dissolved within a short period through contact with tissues and body fluids.
Therefore, there is no risk of an adverse reaction resulting from the accumulation of foreign matter.
The calcium alginate swabs can be bonded to wood, plastic and metal shafts for easy use.
Understanding the Potential Uses
Specimen Collection
The calcium alginate swabs are suitable for collecting samples for clinical purposes. The shape of the applicator and tip makes the applicator an ideal choice for handling cell collection in difficult areas.
These swabs can be used for culture collection from the eyes, ears and nasopharynx.
The alginate applicators are also valuable in ENT pediatrics and even veterinary medicine.
STD Screening
Calcium alginate tipped applicators are ideal for use in STD screening.
Unlike other swabs, these products do not contain fatty acids.
Keep this in mind, because they are suitable for isolating cultures of disease causing microorganisms which are denatured easily.
For instance, some gonorrhea strains are inhibited by fatty acids. Also, the flexible and slim design of the applicator is suitable for urethra-genital application,
Wound Care
It is also important to note that wounds tend to attract residues from swabs. Alginate applicators are suitable because the residue fibers will be degraded naturally.
The alginate swabs are advantageous for use in wound care.
Note: The medical-grade products are perfect for cleaning sites of injury because the tip material is organic and safe.
Choosing The Right Calcium Alginate Swab
If you are interested in acquiring calcium alginate swabs for your medical practice, you will need to choose the most suitable products for your specific uses.
The right swabs will ensure convenience, affordability and safety for your workplace.
Here are essential considerations for swab selection.
Shaft Material



When choosing your applicator, you should compare the benefits of different shaft materials for your specific uses.
Usually, you can choose aluminum, wood or plastic shafts. Aluminum shafts are favorable for urethra-genital applications because they are flexible.
Wood shafts are firm and suited for wound care and sample collection. Plastic shafts are semi-flexible and are ideal for wound care.
Applicator Size




You should compare the sizes of the different alginate swabs on the market before choosing the most suitable for your needs.
The critical measurements that you should evaluate are the tip sizes and the applicator length. There is no perfect size for all uses.
And, larger swabs are ideal for wound care, but they are unsuitable for use in pediatric care. If you need applicators for this purpose, you must look for miniature tips.
Sterile or Non-Sterile

Medical-grade calcium alginate swabs are available in sterile and non-sterile packages. The best products are dependent on the potential use.
Sterile swabs are wrapped individually to prevent contamination from external sources.
These are naturally more favorable for medical uses. Non-sterile options are available in simple boxes.
Puritan Calcium Alginate Swabs
Puritan calcium alginate tipped applicators are exceptional products which are manufactured using organic and natural fiber derived from seaweed.
The swabs are available in a range of tip sizes and shaft lengths for different uses. These swabs are FDA compliant, CE-marked and ISO-approved for medical applications.
Some of the popular products include:
Puritan Sterile Calcium Alginate Swabs, Aluminum Shaft

The sterile calcium alginate miniature swab is suited for wound care and specimen collection.
The flexible shaft is made from aluminum, making it the ideal choice for urethra-genital use.
Also the miniature tip is also suited for use in ophthalmology, veterinary practices and pediatric care.
Puritan Sterile Calcium Alginate Swabs, Wood Shaft


The sterile calcium alginate tip swabs with wooden shafts are individually wrapped, and they are suited for wound care and sample collection.
The tip is regular-sized and the shaft is 6 inches, making the applicators versatile in medical applications.
Puritan Sterile Calcium Alginate Swabs, Plastic Shaft

This product is suited for general applications including wound care and sample collection. These swabs are economical for heavy use workplaces.
This sterile calcium alginate swab applicator comes with semi-flexible plastic shaft and a standard size swab.
If you are interested in calcium alginate tip applicators for your medical practice, you should check out the wide range of economical and versatile products available from Harmony.
Discussion disabled.