Disposable coveralls are used to provide protection to the body without the hassle of decontaminating used suits. They are quick to deploy and quite easy to use. Coveralls are a great choice for visitors and workers who come to your facility.
Protect workers and make the job comfortable and safer.
#1: Affordable & Eco-Friendly
Disposable coveralls are affordable. Yes, there are reusable coveralls and garments that last longer. However, they are more expensive than disposable apparel and have to be laundered. The extra cost of laundering and handling make disposable coveralls an affordable option. No wasted water used to clean means they're more friendly to the environment.
Critical Environments like Cleanrooms depend on coveralls to insure absolute cleanliness.
Read More about Cleanroom Disposables and Consumables.
#2: Comfortable & Always Clean
Coveralls are available in a lot of different styles. Now, workers in any industry can remain comfortable and safe while wearing disposable coveralls. Optional clothing components such as disposable coveralls with hood and boot offer complete coverage and protection.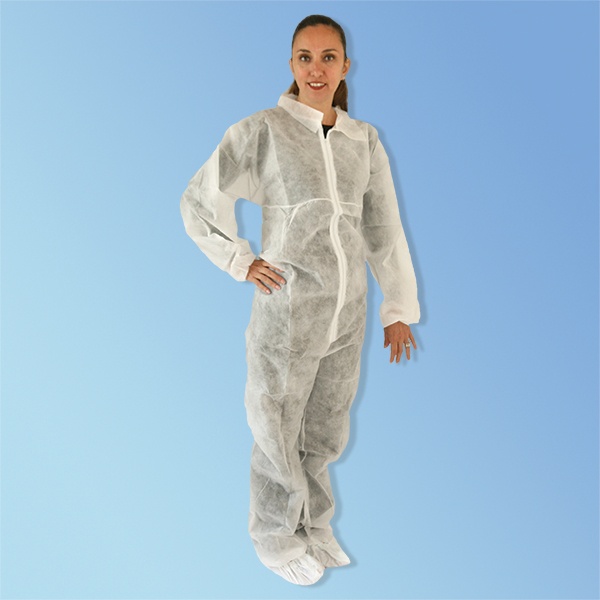 Many fabrics used disposable apparel are lightweight and breathable. Workers benefit from the reduced risk of heat stress and heat-related fatigue while still being protected.
#3: Versatile Protection
Disposable Coveralls and Apparel are incredibly versatile. Disposal coveralls come in different fabrics, styles, and thickness.
Importantly, some workers require liquid tight weaves to keep the dangerous chemicals and moisture out whereas others need protective fabrics that breath. Coveralls are best for single use applications but can be recycled or lightly reused depending on the application.
For instance, maintenance and environmental workers benefit from the comfort and safety features of Tyvek coveralls and can use these garments in multiple situations. Paint workers can benefit from the full-body coverage and disposable nature helps with cleanup costs. Medical workers and researchers benefits from the sanitary features of disposable apparel as well.
Disposable Coveralls are essential safety gear in many professions and industries. The right kind of disposable coverall is good for those who need protection from a particular hazard. Coveralls are a great choice and are an effective alternative to non-disposable fabric protective garments.
Also, they are ideal coveralls for mold remediation, asbestos abatement among other hazardous work; and provide good comfort and body protection in many circumstances.