Consumables in the Cleanroom
You should acquire the right cleanroom disposables for your controlled or sensitive workplace. The correct apparel will prevent the contamination and subsequent compromise of the equipment and products in the environment.
Under ideal circumstances, you should acquire apparel to cover the entire body to minimize the risk of pollution and promote optimal worker protection. However, it is also important to evaluate the specific needs of your commercial, industrial or medical operation.
Here is a practical guide on the essential disposable apparel for your cleanroom or other controlled work environment.
Disposable cleanroom gloves are designed to facilitate contamination control in the workplace. These are essential for your environment if you need to guarantee sterility of areas such as laboratories and cleanrooms.
When choosing your gloves, you should consider the workplace needs in terms of glove sterility, hand sizing and allergy concerns. You will find a range of sterile, latex and nitrile gloves online at Harmony.
Cleanroom Gloves are disposable gloves designed and clean-processed for contamination control and sterility required work environments including cleanrooms, laboratory and ESD work areas.
Minimize sub-micron particle contamination by using gloves designed and manufactured for Cleanrooms.
Disposable coveralls provide whole body protection, minimizing contact with contaminants. Coveralls are ideal for use in your workplace if you are involved in processes such as mixing chemicals, spraying liquids and handling particulates.
When purchasing your cleanroom coveralls, you should compare the benefits of using a standard coverall versus choosing apparel with attached hood and boots.
Disposable Coveralls provide protection from chemicals and particles in cleanrooms, laboratories, production environments, and more.
Cleanroom lab coats, frocks and jackets are perfect for protecting workers against soiling and controlling workplace contamination. There is a range of cleanroom disposables in this category, and you can choose the most suitable in terms of material, apparel size, general design and features like pockets.
Whether you are interested in low lint apparel for general industrial application or microporous coats for cleanrooms, you will find suitable products at Harmony.
Disposable lab coats and frocks offer protection without having to worry about laundering. Simply wear one and dispose of it properly after each use.
Frocks and lab coats are frequently used in industrial applications such as cleanrooms, laboratories or medical settings.
Shoe covers are essential products for protecting specific spaces against contamination due to particles lingering on shoes.
If you have a controlled work environment such as a medical facility, cleanroom or pharmaceutical operation, you can invest in heavy-duty shoe covers. There are also light-duty shoe covers for general uses like open house attendance.
These products can be used for an amazing array of applications, from preventing dirt accumulation from repairman and open houses to more demanding jobs in cleanrooms, medical facilitates, pharmaceutical environments, food processing and industrial spaces.
Work boots are often needed in workplaces such as laboratories, processing operations and cleanrooms for worker protection. However, these can increase workplace contamination.
Disposable boot covers are designed using tough material for resilience, and the opening is elastic for a close fit. You can also choose fluid-resistant and skid-free covers for optimal performance.
Keep dirt and dust out of work spaces and keep employees safe while moving about your lab, cleanroom or work area.
Avoid cross-contamination by keeping boots clean with disposable boot covers.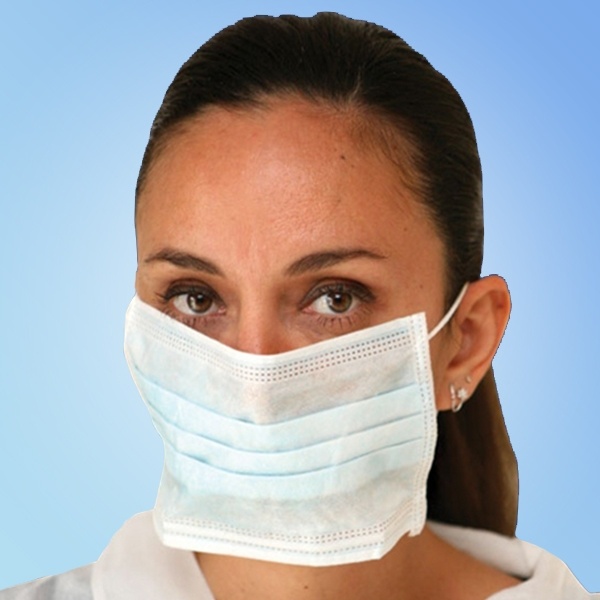 Cleanroom face masks are crucial for protecting the work environment and the worker from contamination.
When shopping for face masks for sensitive applications such as research facilities, medical manufacturing and laboratories, you should choose disposables with ear loops and cleanroom rating for optimal protection.
If you work in a cleanroom, you know that one of the most important elements of cleanliness and safety within that environment is protecting your body and the area from contamination.
Wearing cleanroom masks can make a critical difference, but not all masks are the same. They will help protect the environment from contaminants from your mouth and body.
Disposable beard covers are designed to prevent the contamination of critical work areas by loose hairs from the beard. These cleanroom disposables are indispensable in laboratories and food processing operation.
It is important to note that the wrong beard covers can be uncomfortable. Therefore, ensure that your chosen products are lightweight and breathable.
Disposable Beard Covers prevent loose hairs from falling into food or critical/sensitive areas. Help keep your work environments clean and safe.
Sleeve protectors or disposable arm sleeves provide an additional layer of shielding against workplace hazards.
These cleanroom disposable will create a reliable shield over bare skin and clothing sleeves against chemicals and particles. The sleeves are made using a range of materials, including polypropylene, microporous, Kevlar and polyethylene.
Disposable sleeve protectors (or arm covers) are used as another layer of liquid or chemical barrier protection for the forearm. Protective sleeves can be worn over bare skin or over clothing.
Bouffant caps are necessary for a range of workplaces, including food processing, pharmaceuticals and laboratories. The caps will prevent hairs and other particles from contaminating products and equipment.
Moreover, the apparel keeps hair from the neck and face. When shopping for bouffant caps, look for breathable products.
There are many industries when wearing a cap is mandatory, including food processing, electronic, pharmaceutical, medical, science labs and general industry.
These caps help to prevent minute particles from reaching products or equipment. In addition, they effectively keep hair out of your eyes and away from your work area.
Cleanroom wipes are not the same as regular wipes. These products have low levels of lint to prevent particle contamination in the workplace.
Also, these products are softer to guarantee that sensitive devices and equipment are not damaged. Moreover, you can choose wipes with higher absorbency and resistance to chemicals and abrasion.
Like the cleanrooms themselves, cleanroom wipes have different classifications to be used in corresponding cleanrooms.
Choose cleanroom wipes that are produced in cleanroom environments, to ensure the highest possible quality.
Cleanroom swabs are high-quality precision swabs designed for use in critical environments. Unlike standard swabs, these cleanroom disposables provide residue-free performance.
Therefore, they will not leave particles which would contaminate your sensitive space. When choosing cleanroom swabs, you should check the sizing, shaft materials and tip design.
Write, print, and photocopy in clean environments. Without worry of paper particle or pen ink contamination. Keep your area clean of paper contaminants.
Writing, photocopying and printing in clean workplaces can be challenging because of the potential of ink and paper contamination.
Therefore, if you are working in a sensitive environment, you must purchase cleanroom documentation products. You will find ideal products for your needs, including notebooks, pens, sticky notes and clipboards.
If you are looking for cleanroom disposables for your commercial, industrial or other operation, consider looking for quality products from Harmony Lab & Safety Supplies. You will find the full range of protective apparel and other essential items for your cleanroom and critical environment at affordable prices.