Eyewash Station Infection Risks
Health Effects from Contaminated Water in Eyewash Stations
Eyewash Station Risks for Infection
Eyewash stations are used in workplace environments where potential irritants could lead to eye injuries. By law, research laboratories, production facilities, and medical environments are required to have eyewash stations in place. While designed to keep workers safe, they could pose serious health risks if maintained improperly.
Contaminated Eyewash Stations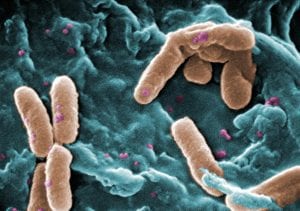 According to OSHA, eyewash stations that aren't being regularly maintained could contain potentially dangerous organisms. This puts employees at risk for developing eye and full body infections.
Pseudomonas, for instance, is a deadly bacteria species known for causing serious health complications. An infection that begins in the eye could spread through an individual's bloodstream to the other tissue, including the skin and lungs. This is just one type of harmful substance which could be lurking in your eyewash station.
Can You Prevent Eyewash Contamination?
First, it's important to identify the type of eyewash system your company uses. Plumbed eyewash stations feature plumbing components like spouts. They should be activated each week to ensure proper working order. And to clear away any buildup that could accumulate over time.
There are also eyewash solutions that don't require any plumbing. Called self-contained eyewash stations, these systems can provide a stream of eyewash to the user for 15 minutes, as mandated by OSHA. They can also be installed quickly and easily in a convenient location. There are also durable self-contained stations. These are ideal in a wide variety of settings, including remote plant areas and construction sites.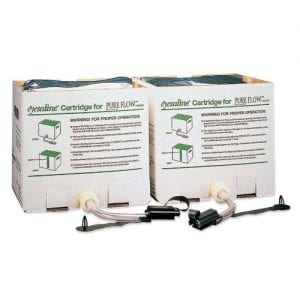 To ensure compliance, self-contained eyewash stations should be serviced according to manufacturer instructions. One of the most important factors to remember is that the saline solution they contain does have an expiration date.
Some have 24-month shelf lives. Others can be stored safely for up to 36 months. The expiration date will vary from one type of solution to the next.
A final way to provide employees with eye solution is to simply have a small emergency eyewash wall station in place. Many low-risk environments  don't fall under OSHA's requirement of a steady stream of 1.5 liters per minute available for 15 minutes.  These facilities will use a wall station with 16 oz or 32 oz bottles  of eyewash.   Others may just have eyewash included with their first aid supplies. These too must be changed regularly to provide employees with access to fresh, contaminant-free eyewash.
Tips for Safe Eyewash Practices
Eyewash should generally be stored at a temperature between 60 and 100 degrees. Different solutions may have more specific storage requirements. To effectively clean or service the station, be sure to follow the manufacturers' instructions.
It's important to use only solutions appropriate for eye flushing in your stations. Avoid risk of serious injury by using the proper solution.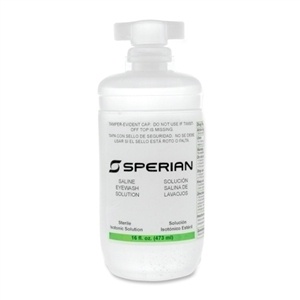 If you have a need for eyewash stations or refill cartridges/bottles, Harmony can help. Take a look at our selection of eyewash equipment on our website. Or contact a product specialist for assistance.
Discussion disabled.
In category:
Eyewash
|
How To
|
Safety
|
Tips
Tagged with:
compliance
,
contaminated eyewash stations
,
contaminated water
,
emergency eyewash
,
eye wash
,
eyesaline
,
eyewash
,
eyewash cartridges
,
eyewash practices
,
eyewash station
,
infection
,
OSHA
,
prevention
,
risks
,
safety
,
shelf life
,
wall station