How To: Clean Clogged Print Heads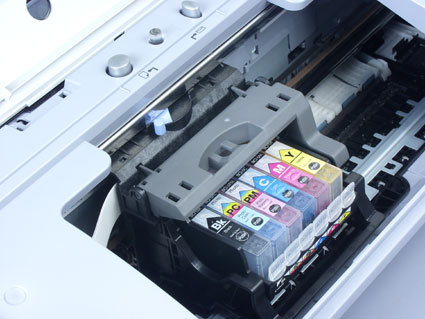 Clean Clogged Printer Heads
If the printer head nozzles are blocked or dried out you will need to dissolve the dried ink.
If the cleaning cycle doesn't do the trick in clearing up poor and incomplete output, don't give up and assume you'll need to buy a new printer head (which can cost more than a new printer).
How To Manually Clean Print Heads
Manual Cleaning Print Heads
Check your printer's owner manual for the location of your print head. Refer to the directions below if the head is in the printer and not part of the individual ink cartridges.
Remove the ink cartridges and dab hot water or isopropyl alcohol onto a cotton swab. Or use our self-saturating alcohol foam swab.
Rub the swab against the print head to loosen dried ink. You can also use a dropper to drip 7 to 10 drops of the isopropyl alcohol into the ink receptacle if your print head is deep in the printer.
Use a non-abrasive dry foam swab to clean and dry the area.
Run the printer's own cleaning program 2 times and then let the printer sit overnight. Repeat the self-cleaning utility the next day.
NOTE: You may want to wear latex gloves to help keep ink off your hands.
Preventive Maintenance
Regularly conducting preventive maintenance on your printer will prevent it from developing clogged printer heads. The most common reason printer heads get clogged is simply that the ink cartridge and the printer head have dried out.
Never let the printer stand with an empty cartridge. Either fit a fresh one, or seal the print head unit in a plastic bag with a few drops of water for humidity. Print heads become clogged when not used for long periods of time so regularly print a page or two to keep the print heads clear.
More Printer Cleaning Tips:
Regularly run printer cleaning cycles.
Cover the printer when not in use to keep it free from dirt and debris also helps prevent the printer heads from getting clogged.
Discussion disabled.
In category:
Disposable Gloves
|
Swabs
Tagged with:
alcohol foam swab
,
clean clogged printer
,
clean printer
,
cleaning print heads
,
clogged print heads
,
clogged printer
,
cotton swab
,
disposable gloves
,
foam swab
,
isopropyl alcohol
,
latex gloves
,
manually clean print heads
,
printer cleaning tips
,
printer maintenance
,
swabs