Fully Utilize Leather Work Gloves To Enhance Your Business
Occupational Safety and Health Administration (OSHA) revealed that 70% of workers who suffered hand injuries in manufacturing were not wearing gloves. Hand injuries among the remaining 30% were because hand protection was inadequate, damaged, or misapplied. Leather Work Gloves offer protection from sparks, rough objects, heat, and injuries in heavy-duty industrial and commercial applications.
Leather is naturally designed to provide comfort, dexterity, durability, and abrasion protection and mild heat resistance. The features and benefits of using leather gloves make leather a traditional favorite for industrial workers.
Workers use a variety of tools and protective equipment at work to ensure protection against occupational hazards.
Hand protection equipment is one of the most important protective equipment you need to protect your hands from sparks, cuts, spills, and other workplace hazards.
Since there is a broad range of leather work gloves available in the market, it can be challenging to select the appropriate pair for your work environment.
Things You Should Know About Leather Gloves…
Hazard Assessment
Hazard assessment is a crucial step towards implementing the right safety equipment at your workplace.
According to OSHA's hand protection standards, employers must select and require workers to use appropriate hand protection  when their hands are subject to hazards such as:
cuts
heat
punctures
chemical burns
handling harmful substances
harmful temperature extremes
Hazard assessment will help you understand the nature and severity of hazards that might affect employees' hands or cause hand injuries. For example, if your employees have to deal with sharp pieces of machinery, needles or blades of tools that can damage the skin on hands, provide your employees with gloves designed to protect against these hazards.
Choosing the Right Type of Leather Work Gloves
When it comes to heavy-duty hand protection products, you can't find anything better than leather gloves. Leather is resistant to heat, punctures, and tearing. And it becomes pliable and softer with use.
Warm in the winter and cool in the summer, leather is the best material to produce gloves for various industrial and commercial use. Often, leather palm gloves offer much better feel, comfort, cut resistance, and last longer.
Like any other personal protective equipment, leather gloves must be appropriate for the task and hazards present and they need to fit wearer's hand properly. When examining a task to select the right glove, determine whether your job involves any hazardous chemicals or sharp objects.
Some hazards may not seem dangerous but they can damage your skin over time. Choosing gloves designed for your work environment is therefore important.
Understand various types of work leather gloves to select one which fits your profession.
Types of Leather Gloves Include:
1. Pigskin Leather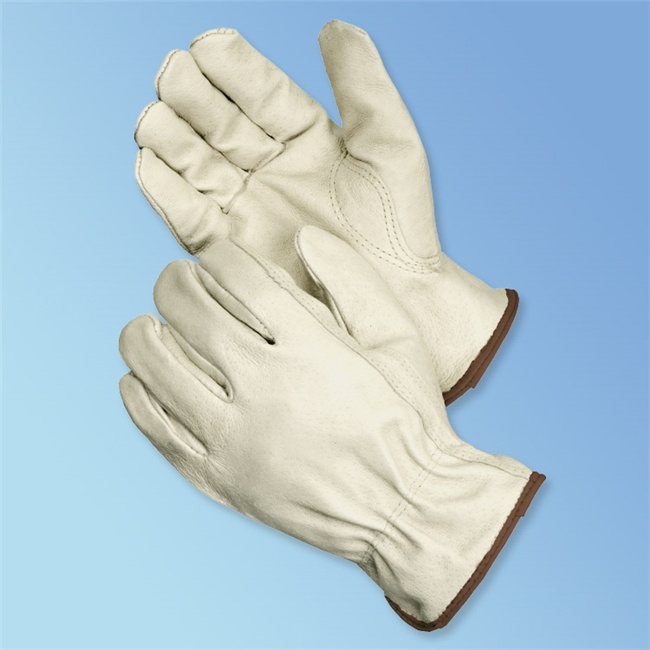 Pigskin leather is one of the most versatile forms of leather which offers durability, breathability, and water resistance making it ideal for many commercial applications.
Because of its porous nature, pigskin leather becomes softer with use and stays cooler. Pigskin Gloves are a great hand protection solution for application where movement, safety, and comfort are priorities.
2. Goatskin Leather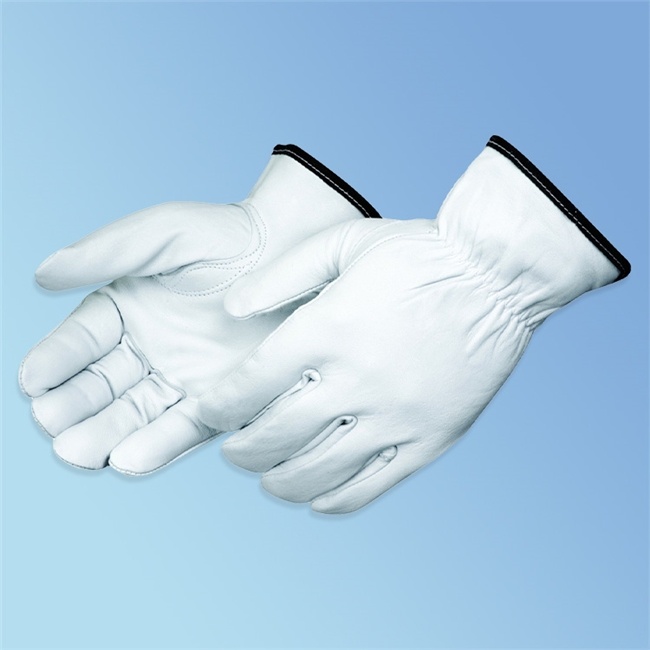 The strength and dexterity of goatskin leather ensures hand protection against many hazards. Because of natural lanolin in the skin which delivers high water and abrasion resistance. Goatskin Driver Gloves provide impeccable protection against weather, cuts, and sparks.
3. Cowhide Leather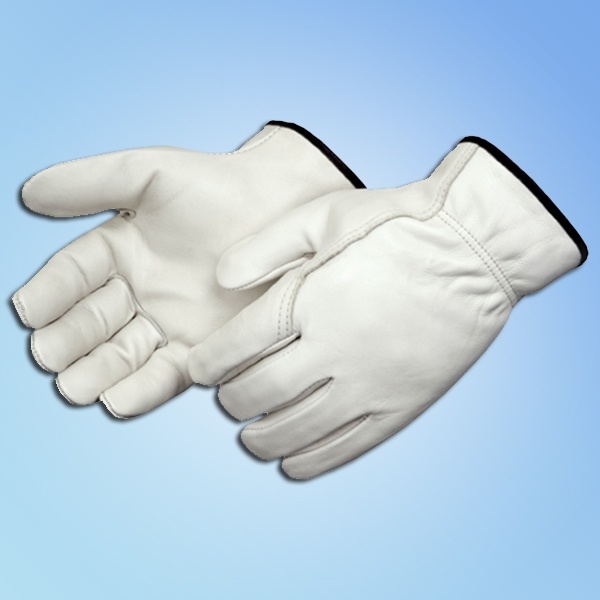 Cowhide leather is one of the most common hides used for professional gloves. Because of its comfort, economy, abrasion-resistant properties, and durability. Cowhide has a longer break-in period and more heat-resistant than goatskin and pigskin.
Cowhide Driver Gloves are designed to provide the greatest strength, comfort, and protection.
So if your application requires exceptional durability go for cowhide, goatskin or even pigskin. With cowhide being the most durable. Goatskin is a good choice for ultrafine dexterity required for some welding gloves.
Limitations of Leather
Leather work gloves are considered as the most commonly used personal protective equipment. While leather provides protection to the hands, wrists and fingers, they have limitations.
For instance, if leather gloves are exposed to chemicals for a long period of time, they will start breaking down allowing the chemicals to seep through. Your employees must understand that protective equipment provide protection against occupational hazards up to a certain point.
So, leather gloves are best for protection from rough objects, sparks and heat. And for cushioning from light blows in heavy-duty work requirements.
All kinds of leather provide comfort, durability, dexterity, mild heat resistance and abrasion protection.  Because of these advantages, leather is a traditional favorite for industrial workers.
Leather Work Gloves Supplier
Now whether your profession requires deerskin gloves or disposable gloves, Harmony offers a complete range of occupational gloves made for a broad range of industries.
Browse through our online store to learn more about our collection of leather driver gloves and other personal protective equipment!