Following the right specimen collection procedures is critical. Not only does it protect healthcare professionals, laboratory staff, and the patient, it also ensures accuracy in diagnostic testing. For infectious diseases, it's important to get specimen collection right on the first try. That's why having the proper tools is essential.
When it comes to the swabs and vials used for collecting specimens for diagnostic testing, you have a lot of options. While traditional cotton tips may have been the go-to choice of yesteryear, today's selections boast significant advancements and options tailored to your unique needs.
Indeed, modern-day swabs come with a number of features designed for ease of use. In this post, we'll share a comprehensive overview of specimen collection kits as well as considerations to help you determine which option is best for your application.
In many healthcare settings, media transport systems are used. These systems can optimize the specimen collection process and make handling and transporting specimens safe and convenient. They are also designed to provide rapid release, and by integrating high-quality swabs into the system, you'll receive the best level of elution.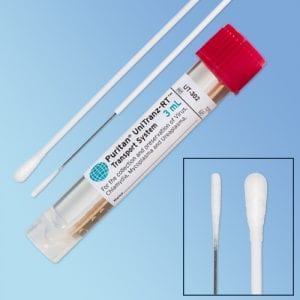 One popular choice for transport media is the Puritan UniTranz-RT ®. It can be used to transport any virus, in addition to bacterial specimens such as Chlamydia and Ureaplasma. The unit contains Puritan's Purflock flocked swab. The universal transport liquid suspends the cells until processed. They can be purchased as vials of transport medium exclusively; or, for utmost convenience, you can also choose different tipped applicators to complete the system.
For fastidious and both anaerobic and aerobic bacteria, the Opti-Swab ® liquid amies media transport system is an ideal choice. The liquid amies suspends the cells until processed. It protects the viable bacteria specimens during lab transport and employs flocked or rayon medical swabs for effective specimen collection.
For certain types of microorganisms, enrichment media are needed to create ideal environments. By adding enrichment media, you'll promote the development of the particular microorganism for which your testing while also limiting the growth of others. Staph organisms, for instance, require the specific liquid transport MRSA, due to its resistance to antimicrobials. Salmonella, on the other hand, can be enriched with selenite broth. LIM broth is used as an enrichment media for Group B Strep in pregnant women.
In comparison to media transport swabs, there are also Dry Transport Swab systems to consider. Dry transport swabs can be used in general-purpose cell collection and transport to the lab, testing, screening, and DNA testing.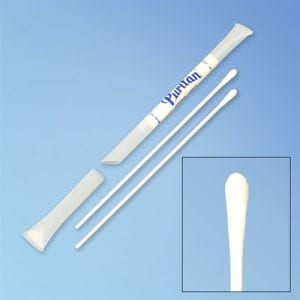 As you can see, there are various types of systems available for the collection and transport of specimens, many of which are designed specifically for one type or group of of bacteria or viruses. While it's helpful to know what you're testing for in order to determine the best type of collection kit to use, it's also beneficial to consider the place from which you're collecting specimens on the patient. We'll discuss these considerations below.
Considerations By Application
For certain types of specimen collection, proper practices are mandated by the CDC. For instance, to collect upper respiratory tract specimens, it is recommended by the CDC that collectors use flocked swabs to collect specimens from the tonsil and nasal areas. To avoid inactivation of certain viruses or inhibition of molecular assays, it's recommended that users do not select wooden-shaft swabs for this application, as the wood could compromise the specimens. Additionally, sterile rayon swabs or polyester medical swabs are recommended.
Once collection of upper respiratory tract specimens has been completed, swabs must be immediately placed into vials with non-antibiotic transport media. There are additional steps outlined by the CDC for the process, including the use of both oropharyngeal and nasopharyngeal swabs. Nasopharyngeal swabs are also used to test for conditions such as whooping cough and certain types of flu.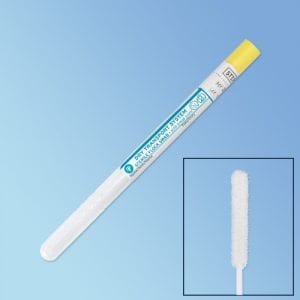 Of course, the nose and throat aren't the only sites for specimen collection. For any area of the body, patient sensitivity should be considered to help determine which swab and collection products to use.
For instance, rectal cultures can be obtained to identify types of bacteria indicating gastrointestinal diseases, but because of the levels of sensitivity, the gentlest swabs possible should be used to collect samples from this region. Likewise, specimens from genitalia, orifices, and any other sensitive areas should be collected using swabs that will minimize discomfort. Calcium Alginate Swabs are also a good choice, since any residual trace fiber left will safely dissolve.
Luckily, there is a vast number of options available for specimen collection and transport to keep patients safe and comfortable while also preserving the integrity of the sample. By weighing the considerations listed here, you can identify the best types of swabs, vials, and complete transport kits to best meet your needs. Harmony Lab & Safety Supplies has an extensive range of products available to choose from, which you can view online. If you'd like additional assistance deciding on the best option for your application, feel free to consult with one of our product specialists.