Best Glove Liners for Sweaty Hands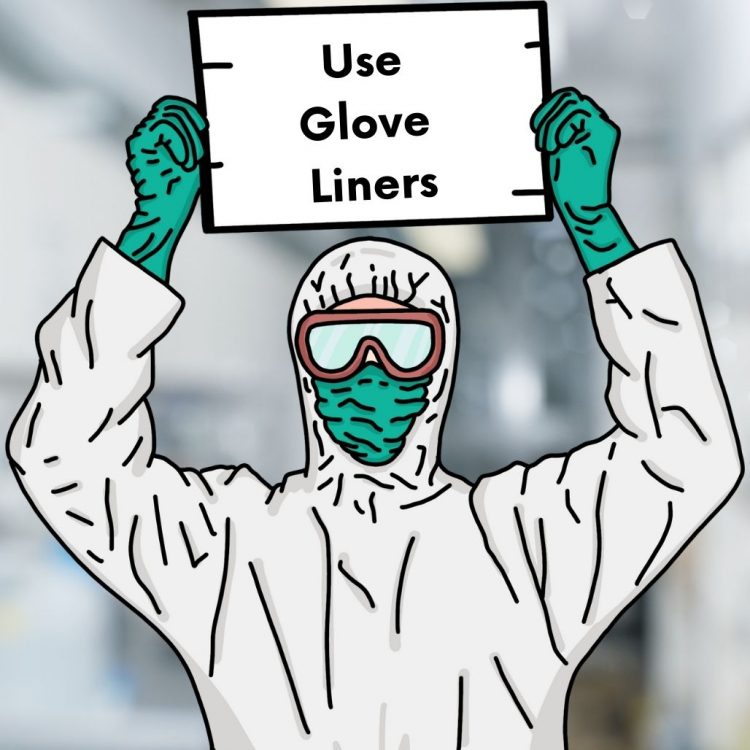 Summary – Glove liners offer a naturally soft breathable layer that prevents excessive sweating and irritation. Natural materials like nylon are the most comfortable.
Use our quick navigation below to find detailed information about each topic. If you need any help don't hesitate to contact us using the form at the end of the article.
3 Benefits of Glove Liners
Nylon glove liners made from 100% continuous knit nylon add additional comfort to disposable gloves. Nurses, doctors, and machine operators all benefit from glove liners.
Reduce hand fatigue caused by excess sweating, perspiration
Reduce allergies and irritation caused by prolonged exposure to latex
Increase the quality of life in work environments
One main benefit of glove liners is that they reduce discomfort caused by excessive sweating. Because disposable glove materials can irritate the skin, nylon offers a natural barrier that keeps your skin at ease.
Nylon glove liners can also prevent dermatitis caused by latex irritations and increase your quality of life at work. 
How do glove liners help sweaty hands?
Nylon glove liners create a naturally soft, breathable layer that prevents excess sweating. Cotton is another common material for glove liners but doesn't provide the same temperature regulation. 
Because nylon glove liners are washable, your hands will always feel fresh and at ease. Mechanics, process workers, food preparation, electronic assembly, and gyms are other applications that benefit. 
Why do some disposable gloves cause sweaty hands?
Disposable glove materials are generally unnatural and derived from petroleum or other oil-based materials that prevent your skin from breathing. Disposable gloves can create a greenhouse effect. Because nitrile does not live well, you only become hotter and more uncomfortable.
Even if you have comfortable disposable gloves with aloe, your skin may be averse to nitrile or other materials. When this is the case, nylon glove liners can prevent dermatitis and further irritation by creating a natural barrier between you and the irritant source.
How to choose the suitable gloves for sweaty hands
Nylon is the ideal material for glove liners because of its low lint characteristics and incredibly soft natural feel. 
Depending on the precision required for your tasks, you may want half-finger gloves to increase your tactile feedback. However, this can lead to sweaty fingertips and discomfort. 
Electronic assembly, nurses, and mechanics like half-finger glove liners because they don't get in the way at work and reduce hand fatigue by up to 80%. 
Can nitrile gloves help sweaty hands?
Nitrile gloves are generally the cause of sweaty hands and not the cure.
The exception may be if you find latex gloves to cause sweaty hands, then it is worth your time to try nitrile. You may be experiencing adverse reactions to natural latex rubber, and nitrile is 100% latex-free.
Nitrile rubber is more comfortable than latex but pales in comparison to the comfort of nylon. For most people, we recommend using nylon glove liners instead of disposable glove material that does not have the natural breathable properties of nylon.
Some doctors practice double-gloving with nitrile, but this is not to reduce sweat and increases barrier protection in high-risk settings.
Does latex cause sweaty hands?
Latex rubber may cause sweaty hands, redness, and itching, or in more severe cases, latex can cause dermatitis. Nylon glove liners can prevent latex irritations, but it is recommended to avoid latex if you have sensitivities.
Where can I buy glove liners?
Harmony Lab & Safety Supplies is your source for disposable gloves and natural glove liners. Reduce hand fatigue, stop excess sweating, and increase job satisfaction with natural nylon glove liners.
If you're unsure as to what glove liners you need, feel free to contact us using the form below.