Best Nitrile Gloves Orange
Summary: Grabber Orange Nitrile Gloves offer the best protection at the best price when compared against other orange gloves at a comparable thickness.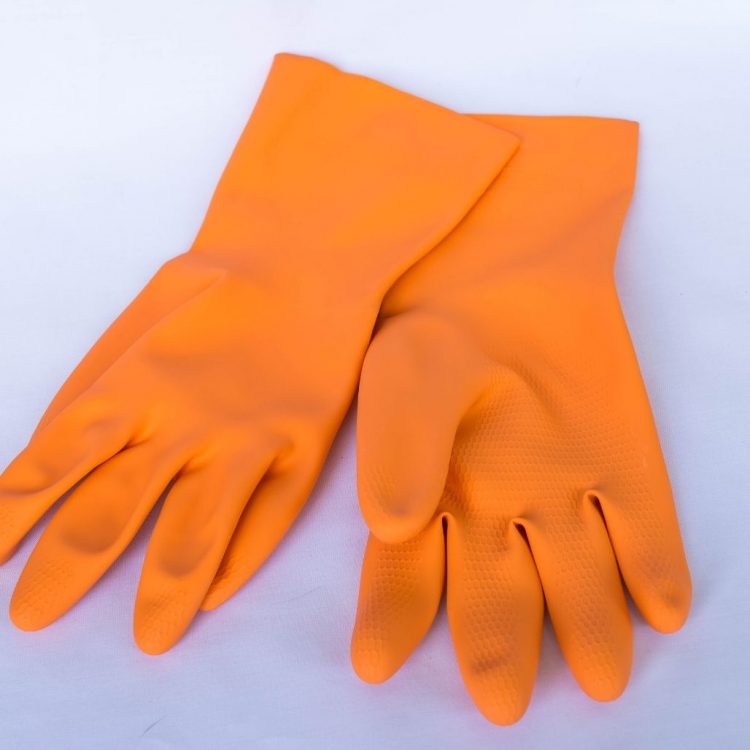 If you've ever need orange rubber gloves before, then you'll appreciate having the best protective equipment for your job. Find the best orange nitrile gloves for medical exams, surgeries, mechanics, automotive maintenance, plumbing, and more.
Best Orange Nitrile Gloves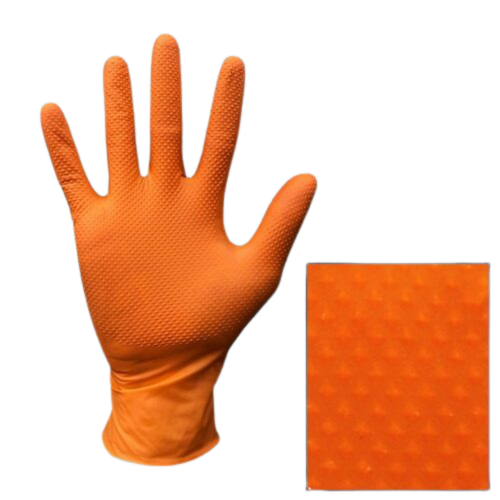 Why did we choose Grabber Orange Nitrile as our #1 pick for the best disposable orange glove? There are several reasons.
First, Grabber manufactures their gloves with high-grade industrial nitrile rubber that yields a durable and robust glove suitable with an excellent grip for heavy-duty automotive maintenance work. Not all nitrile is created equal! The puncture resistance is 3x that of gloves sold by competitors that are thinner and even withstand specialty chemicals.
Second, the diamond textured fingertips maximize grip in oily conditions making these the premier choice by mechanics for orange mechanic disposable gloves. Durable, sturdy, and 6.0 millimeters thick, added puncture resistance makes these gloves ideal for medium to heavy-duty tasks. The component materials are of excellent quality and produce a higher level of abrasion resistance, suitable for home tasks, cleaning solutions, and jobs that must comply with FDA regulations.
Lastly, at Harmony Lab & Safety Supplies, you can read dozens of reviews from verified purchases, with 100% of reviewers recommending the product. The high visibility color isn't the only reason people buy these gloves. Suitable for food contact (FDA approved), the material can withstand harsh cleaning chemicals after service.
Harmony offers fast delivery, personal service, and competitive prices, whether you buy a box or a case. Checkout is a breeze, and when shopping at Harmony, you can purchase other PPE with the same fast shipping and verified customer reviews.
Conclusion
Grabber power free nitrile gloves are of excellent quality and are loved by paint shops, workers who need an unbeatable grip, and people needing high visibility gloves for home work.
Grabber gloves meet all required criteria mandated by the FDA for food contact with excellent elasticity.
Get 100 gloves per box, and 10 boxes per case for even steeper discounts with sizes up to x-large in stock.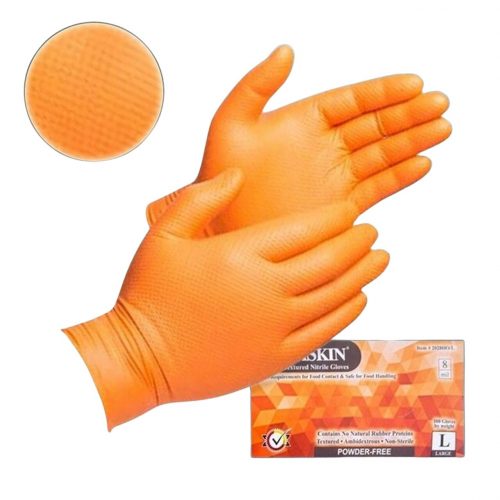 Duraskin Orange Nitrile Gloves are powder free, 28% thicker than Grabber gloves and are 8x thicker than the competition. With 8.0 mil heavy duty nitrile rubber that is powder free, you are ready for heavy duty tasks that demand durability such as automotive and medical tasks. The thickness is unrivaled and meets or exceeds all federal specifications for food handling.
The raised diamond finger tips and reinforced palm protect against cuts, tears, and abrasions. You'll notice the raised diamond texture immediately if in the automotive sector because you will be able to grip oil ridden parts without hassle.
The company behind these gloves, Duraskin, is known for consistent quality. Other brands saw their value decline in the heat of the pandemic, but Duraskin continued manufacturing quality gloves and providing helpful features to support you at work.
At Harmony you may review the glove after your purchase, so you know all the reviews are real and verified. On the site you may also contact customer service to find accurate shipping estimates across the United States, Canada, and Mexico.
Conclusion
Duraskin Powder Free Nitrile Gloves wont rip and wont vary in quality. This orange nitrile has 8.0 of rubber protecting your skin from hazards. The gloves meet food standards for food service and offer broad chemical resistance.
Get 100 gloves per box and 10 boxes per case with sizes up to extra-large in stock. See reviews as they appear on the site and ask questions that get answered quickly by product experts.
With a competitive price the search for your ideal orange glove is over. Visit HarmonyCR.com to shop and save on nitrile gloves, medical grade PPE, and other supplies. Read a real customer review and write your review after checkout.
Orange Disposable Gloves Frequently Asked Questions
How do you pick the best orange nitrile glove?
Orange gloves should provide excellent protection in the most heavy duty applications, be a vibrant highly visible orange color useful for color coding, offer an excellent raised diamond texture grip, and be 100% powder free and must come from trusted brands.
We tested half a dozen orange gloves that claimed to be industrial grade and left you with the best. We don't want to damage our reputation for safety by recommending low-cost and low-quality gloves. Instead, at Harmony we provide professional service, competitive pricing, and gloves that provide industrial grade protection. If you ever need any help reach out to us for helpful service.
The format of our test was the following:
Are the gloves consistent?
Do the gloves protect against chemical hazards?
Are the gloves heavy duty enough for automative and industrial tasks?
Do the textured fingertips assist in picking up small and oiled parts?
Do the gloves resist abrasions?
Does the company behind these gloves offer free shipping?
Does the brand have a history of consistent quality?
Do the gloves contain powder if they are marked powder-free?
Are the gloves disposable or are they sturdy enough to be reused?
Every glove we reviewed came in a box of 100 and was inspected for consistency, hazard protection, texture, resistance to chemicals, dexterity and thickness. If we encountered issues with the gloves, we followed up with the manufacture and rated the quality of their service. In our tests we found Grabber and Duraskin gloves to both be higher quality than gloveworks orange nitrile gloves. Glovesworks HD had an aggressive texture but had issues with consistency in its component materials.
After thorough testing we determined Grabber and Duraskin to be the two most consistent brands offering orange disposable nitrile gloves. Both brands are sold at Harmony on their site with fast delivery on a box of 100 or a case of 1000. Shipping times vary but most orders ship out the same business day and estimates can be seen at checkout. As always you may read customer's product reviews
Do natural rubber latex gloves come in orange?
Natural latex rubber may be dyed any color the manufacturer chooses, however orange latex and orange vinyl gloves are rare. This is because the glove material must resist a broad range of chemicals for automative and industrial hazards and nitrile gloves resist chemicals best. If you need ppe then it makes sense to get the ppe best suited for your particular job. Orange nitrile is the most suitable latex-free, high quality glove with an unbeatable grip for automative and heavy duty hazards in which broad chemical resistance is necessary.
Orange latex gloves are generally extra thick heavy duty gloves specifically designed to resist particular chemicals. You wont find these orange latex gloves everywhere except stores that sell lab supplies. You may find chemical resistance gloves at Harmony Lab & Safety Supplies, but nothing that is the color orange.
What are orange gloves used for?
Orange nitrile gloves are most common in automotive applications in which it is of benefit to see dark oil stains, chemical solvents and other hazardous materials on your gloves easily. Orange is a highly visible color. For many petroleum workers, using orange nitrile gloves adds a level of safety. Read more about what orange gloves are used for.
Choosing the best orange gloves is simple. If you need industrial grade protection then Grabber Orange Nitrile offer 6.0 mil of high grade nitrile rubber.
If you need even heavier duty gloves then Duraskin Orange Nitrile offer 8.0 mil thick nitrile rubber that you can depend on for heavy duty applications.