Grabber Nitrile Gloves In-Depth Product Review
Summary – Grabber Nitrile Gloves are heavy duty gloves with a raised diamond texture for an excellent grip. The material is 100% latex free and 100% powder free and are most suitable for medium duty activities. Both Grabber Orange and Grabber Black Nitrile Gloves come in boxes of 100 with sizing up to extra large.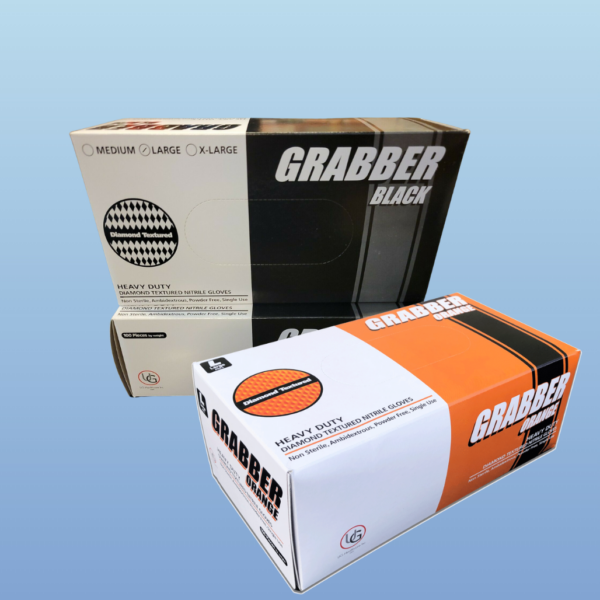 Grabber Nitrile Gloves - Review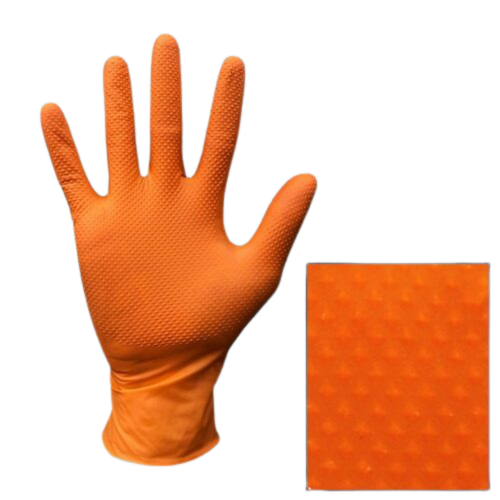 Grabber Orange Nitrile Gloves come in sizes from small to extra large and are ambidextrous making them ideal for every mechanic shop. The synthetic rubber is free of natural rubber latex that may cause irritation for those with sensitivities. The gloves come without any additional powder which has been known to cause irritation and may be the reason behind people's latex sensitivities.
Grabber gloves are approved by the FDA Approved for food contact but are non sterile making them unideal for medical applications. The raised textured fingertips allow for precise grip in oily environments. As long as the gloves are stored in a cool dry place, they will continue to work for you.
The nitrile rubber is 6.0 mil thick and can be used for long periods because nitrile is a heavy duty rubber. An average glove may be 3x thinner than Grabber and tear easily. Grabber gloves are suited for the toughest applications and are known for providing an excellent grip.
Look no further
You may already be familiar with black nitrile grabber gloves and you can expect the same consistent quality from their orange gloves. Both gloves have a reinforced fingertip with extra material. If you are looking for a medium to heavy duty glove look no further. 
When shopping for Grabber nitrile gloves shop at Harmony and view verified reviews displayed publicly and sign up and save for exclusive discounts. Harmony posts the regular price on their website and offers volume pricing when buying more than just a box of 100 grabber gloves. Get cases of a heavy duty glove that suits your application perfectly.
Grabber gloves are manufactured with powder free natural rubber and are 100% latex free. The nitrile rubber is puncture resistant, non-sterile, and is a glove with a raised textured fingertips. Keep them stored away in a dark, cool dry place.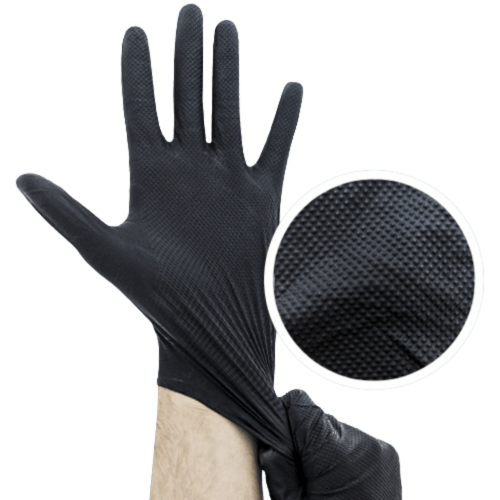 Whether working on cars, machinery, landscaping, cleaning up, or construction, these gloves are up to the challenge. You cannot go wrong with this glove's extra grip, protection, and visibility. With its diamond grip pattern, these gloves are perfect for any job where you need a grip and protection.Double diamond embossing on the palm and back of hand give a better grip, even when wet.
We are no strangers to the importance of a good grip when you are going about your business. That is why we recommend these Grabber Diamond Grip Black Nitrile Gloves. Six mil thick for extra strength and durability! Strong nitrile to resist punctures, tears, and many chemicals (including solvents and grease). Double diamond embossing gives you excellent grip for the toughest jobs, wet or dry. Tough enough to protect you from the toughest jobs. Without sacrificing dexterity. 
Heavy duty 6 mil black nitrile material for extra protection from punctures and chemicals. The black, diamond-embossed gloves are ultra-durable and comfortable. Whether you are working on a car or in a kitchen, these gloves will keep you safe from harmful chemicals.
Look no further
Whether you choose Grabber orange or black nitrile gloves you are in good hands with the perfect medium duty disposable nitrile glove. Ideal for mechanics, tattoo and piercing artists, along with plumbers and consumers doing house and yard work.
If you haven't tried Grabber before, you'll immediately feel the difference when trying to grip small parts in oily conditions. The reinforced diamond texture fingertips are ideal for precise tasks.
Grabber™ Black Nitrile Gloves, 6.0 mil 100% Food Safe, Industrial Strength, Powder-Free
Heavy duty 6 mil thick Black nitrile gloves with diamond embossing for maximum grip, dexterity, and protection.
Nitrile gloves resist punctures, tears, and many common / specialty chemicals (including solvents and grease).
Double-sided diamond embossing provides excellent grip for the toughest jobs, wet or dry.
9.5 inch long nitrile gloves. Powder-free, ambidextrous, and with beaded cuffs for faster donning.
Choose Grabber Orange Nitrile Gloves for medium duty activities. The 6.0 mil nitrile rubber has an exceptional grip due its to raised diamond texture fingertips. And the fingertips come reinforced with additional nitrile rubber to resist tearing.
Grabber is known for manufacturing consistently good gloves that wont let you down.
Find out how cotton gloves benefit you. From protecting your hands in daily tasks to specialized uses in dermatological settings, this guide covers it all.
Read More »