The Best Tattoo Gloves on the Market Today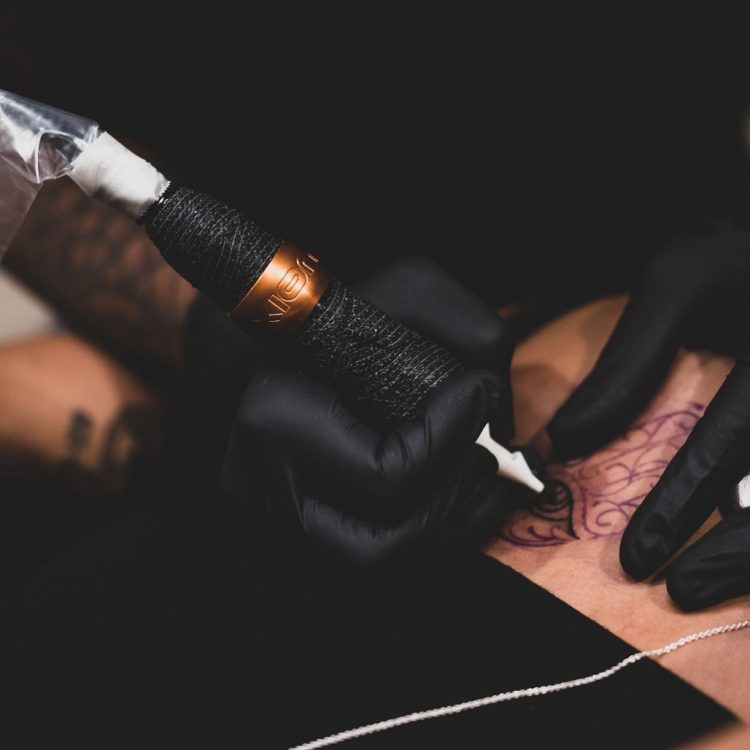 Summary – The best tattoo gloves are made from high-quality nitrile rubber because of their reliable protection and exact grip.
If you've ever been a tattoo artist, you'll appreciate having the best tattoo gloves to get the job done. With dependable protection, precise grip, and reliably comfortable, Grabber Nitrile Gloves are a great glove at a great price.
You don't want to deal with rips and tears. We've reviewed the dozens of nitrile gloves to find the best for the tattoo industry.
See our reviews below, along with 4 questions to ask yourself to help guide your decision-making. We have the information you need if you need nitrile, latex, or vinyl gloves.
Use the quick navigation below to jump to a specific topic.
How Do You Choose the Best Tattoo Gloves?
Disposable gloves minimize cross-contamination. You don't want to get blood or ink stained on your skin. You need to stay protected from harmful bacteria and infectious diseases. You can avoid most risks by having proper disposable gloves.
Disposable nitrile gloves are a common type of tattoo gloves because of their black color, durability, and comfort for extended tattoo sessions. You can ensure adequate protection by paying less than fifty cents per glove. An industrial-grade glove is ideal because it is less likely to rip or tear than the competition's cheap alternatives. You'll notice the difference immediately.
Below are 4 frequently asked questions to consider when deciding which tattoo gloves are suitable for you.
What level of puncture resistance do you need?
Tattooing requires one to wear resilient gloves that can last for longer sessions. FDA has approved most black surgical gloves for medical use. Thus, it makes them the best alternative when working in areas prone to contamination like spas, salons, and tattoo parlors.
Based on tattooing's risky nature, a dependable glove should protect the wearer from needle injury and other sharp objects. For enhanced protection, tattoo artists may use the double glove approach. Here, one wears a glove on top of another to lessen the chances of getting poked by sharp objects.
A thicker glove will outlast a thinner glove, all else being equal. Many find 3.0 mil thick rubber material to be the minimum thickness necessary to not tear during long tattooing sessions. We recommend 5.0 mil – 7.0 mil nitrile gloves for heavy-duty tasks.
Do you need protection from ink contamination?
The primary purpose of wearing a reliable glove is to offer a splendid protection barrier between the client and the tattoo artist. Repeat exposure to tattoo dyes may put the artist's health at risk.
Black nitrile exam gloves give the much-needed shield and prevent contact with any form of contamination. Since it is durable enough, it ensures that the artist works at ease without fearing the gloves wearing out in the middle of a session.
The best glove to use is the powder-free option, as they are non-allergenic for those with sensitive skins. Also, they play a significant role in reducing the spread of allergens. Of course, tattooing involves lots of ink spills and bloodstains. Not only is it disgusting but also irritable to clients who cannot stand a glance of a soiled glove. The thought of walking into a tattoo shop to find the artist's gloves covered in blood may put people away.
How precise is your task?
Disposable gloves go through a specialized process that allows them to grip the wearer's hand without straining it. Most tattoo gloves feature textured fingertips for precise gripping.
A high-quality disposable glove should not affect the hand sensitivity of a tattoo artist. Instead, it should fit comfortably regardless of the hand size. This allows professionals to carry out even the most delicate tasks with accuracy.
Black nitrile gloves have a low friction texture, making them more accessible and flexible to use. They have a firm feel and wont roll down your hand. Most manufacturers make tattoo gloves in nearly all sizes.
So, ensure that you get the right size for your hand before buying for a comfortable experience. Check your precise glove size from the dimensions printed on a medical size chart.
How many gloves do you need?
A busy tattoo shop may handle several clients within a day, depending on the intensity of the work required. Disposable black exam gloves offer the best protection since you can throw them after use. Those without latex allergies may use natural latex gloves for maximum comfort and barrier protection.
A trustworthy tattoo artist should strictly put one glove on every client. That way, it prevents infections or germs from spreading from one person to the other. Note that gloves offer a certain percentage of protection against sharp objects injury. So, practice extra precaution when handling the needles and other apparatus.
For high-volume tattoo shops, choosing a single glove is most cost-effective, and buying it in bulk takes advantage of wholesale pricing.
The 9 Best Tattoo Gloves You Can Buy in 2022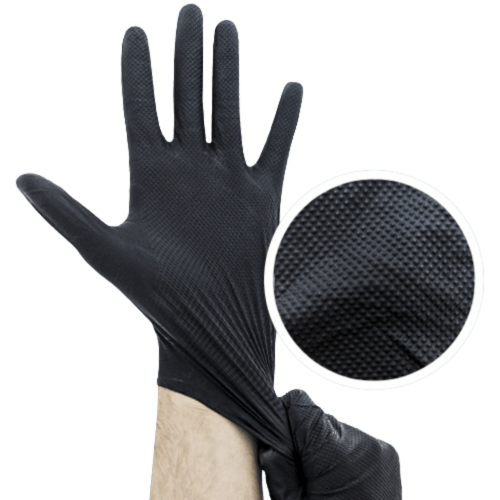 Do you need heavy-duty, industrial-grade tattoo gloves? Look no further. People love Grabber gloves, and there are plenty of reviews to back it up.
These 6.0-millimeter thick materials can last hours of tattooing without sacrificing your comfort.
Businesses trust Grabber because of their consistently good quality gloves. You won't find manufacturing defects in their boxes of gloves.
Conclusion
Grabber Nitrile Industrial Grade Gloves are heavy duty with a diamond embossed grip for tough tasks.
The material protects against petroleum products and hides against ink stains.
With a great value and an even better grip, you wont be disappointed with Grabber.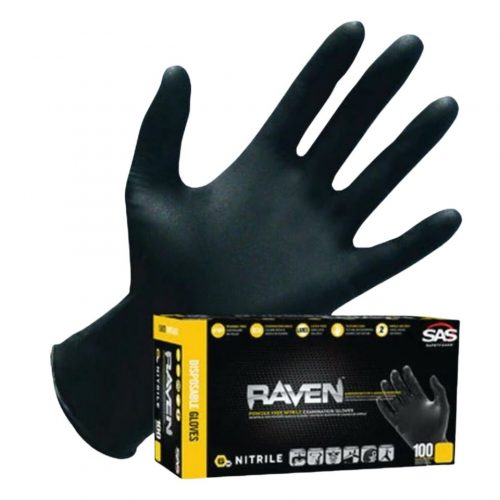 Raven Black Nitrile Exam Gloves are highly rated by customers and industry insiders like us for several reasons.
First, Raven disposable gloves are manufactured to the highest quality specifications that measure consistency, material strength, and tactile sensitivity. Raven offers proper fitting gloves because the professional tattoo artist you are deserves to be comfortable at work.
Exam gloves offer enhanced barrier protection beyond proper hygiene. According to FDA standards, the gloves are suitable for medical procedures, meaning they are ideal for the tattooing process. This means that blood and ink stains can be wiped away safely without any pathogens leaking through the glove into your skin.
There is no need to have any concerns with latex allergies as these gloves won't produce any latex allergic reactions.
Second, these gloves are 6.0 millimeters thick which protects the client's skin, ensures a good grip, and resists wear from harmful chemicals. The puncture-resistant nitrile is medical grade, highly durable, and a great deal.
Some other attractive features of the Raven Exam Gloves:
100% Powder Free
7x thicker than alternatives
100% Latex Free
Wholesale Pricing
Raven Exam Gloves sold by Harmony Lab & Safety Supplies come with U.S.-based product support and guaranteed safe arrival. You can call them if you have any questions or fill in the form at the end of this article.
Conclusion
Raven Black Nitrile Exam Grade Gloves are 7x thicker than the competition and are designed for maximum barrier protection.
If you need a puncture resistant material for tattooing, we recommend Raven Nitrile Gloves.
Raven Black Nitrile Exam Gloves, FDA Approved, 7.0 mil thick
Latex-free and powder-free 6.0 mil black nitrile glove provides extra protection over thinner gloves while retaining comfort and dexterity.
Exam grade gloves with outstanding strength, wear, and chemical resistance.
Excellent barrier protection for use in a medical or hazardous environment.
Textured for enhanced grip in wet and dry conditions.
Ambidextrous gloves fit either hand with a beaded cuff for easy on/off
Black Nitrile is quickly becoming the industry standard for tattoo, body art, law enforcement and EMS.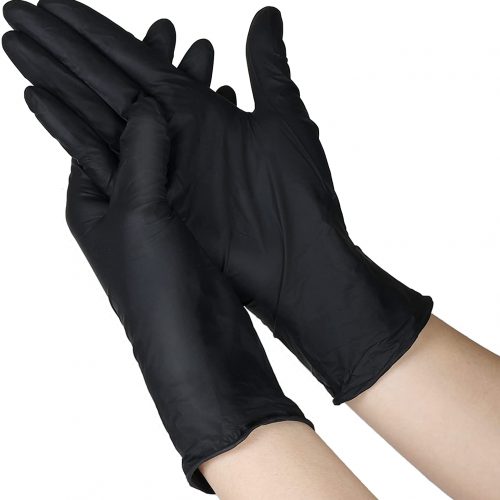 Carbonite Black Nitrile Tattoo Gloves are thick enough to withstand long sessions of wiping ink off your client. The material won't rip or tear unless put under heavy strain.
If you've been frustrated by thin tattoo gloves before, these are for you.
Coming in packs of 100, these powder-free gloves are built for convenience. The powder-free material is paired with a beaded cuff for easy donning. You can maintain a consistent grip and feel details with textured fingertips.
Great for cleaning without causing your hands to sweat. Consistent quality with Carbonite, easy opening, and the dispenser keeps gloves clean and organized. Designed well for all hand types. Material is thick enough to withstand manicured fingernails.
Conclusion
Carbonite 6.6 mil HD Black Nitrile Gloves are one of the best 6 mil nitrile gloves available, and our second pick for tattoo gloves.
The material allows for precise tasks but wont tear easily. Stop being frustrated by thin gloves tearing when you try to put them on. Try Carbonite HD today.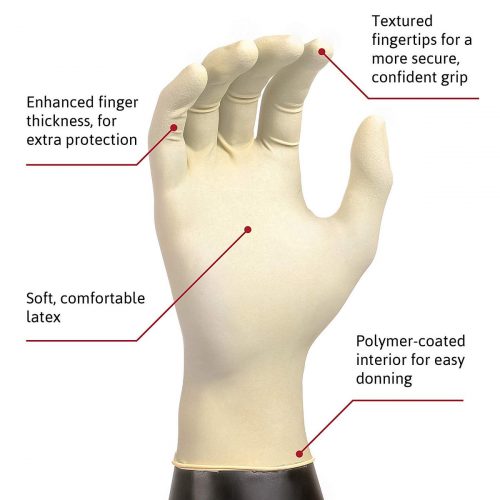 Are you sensitive to nitrile and other non-natural rubber substitutes? If so, you may benefit from using natural latex gloves in your tattooing process.
Latex gloves keep you and your clients safe. With textured fingertips, you will feel more secure and confident in your grip. The fingertips also have enhanced thickness for extra protection when wiping away ink and blood stains.
Latex is naturally soft and comfortable. MicroFlex coats the interior of their gloves with a proprietary polymer for easy donning and removal. 
MicroFlex gloves are FDA approved for medical grade applications meaning you are protected from blood-borne pathogens. Wearing gloves is not enough for advanced protection; you will also need to ensure your gloves are medical grade and FDA approved.
Conclusion
Microflex latex exam gloves provide plenty of protection in piercing and tattooing. 
Disposable latex gloves offer natural protection and its medical grade certification protects against blood borne pathogens and other infectious diseases.
Rubber latex gloves by Microflex come in all sizes and will fit you comfortably. Read real customer reviews when you check the current price. Microflex gloves provide a consistent grip you can rely on.
Microflex Latex Exam Gloves, 5.0 mil Powder Free
Ansell Micro flex durable latex gloves MF-300 has a unique design with thicker fingertips, to prevent snags, rips and tears making this glove well suited for mechanical, industrial, or healthcare jobs
Featuring the Micro flex Diamond Grip technology, this single use glove allows workers to perform tasks from the automotive aftermarket environment with ease as handling with slippery and oily objects
Available in Small, Medium, Large and Extra-large for every type of hand. Gloves come in dispensers of 100 units
Whatever the task, and whatever the environment, customers around the world can rely on MICROFLEX's advanced hand protection solutions to go beyond protection to improve worker comfort and productivity
VersaShield Black Nitrile Exam Gloves, 3.0 mil - Manufactured by Medline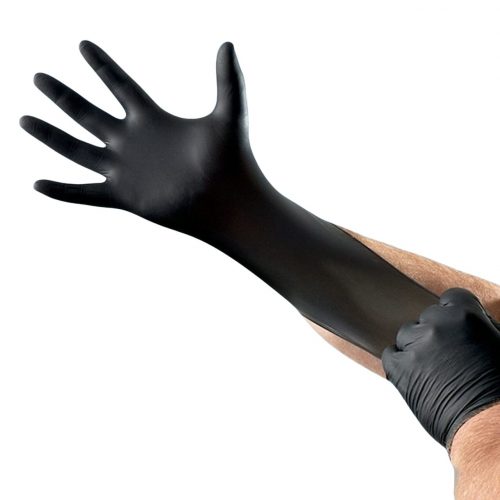 Do you need a medical-grade nitrile exam glove? You may want to try these VersaShield gloves manufactured by Medline, the most prominent brand trusted by Hospitals for their quality products.
These gloves are ideal for those with sensitive skin and for artists wishing to protect their clients in the tattooing process. Exam gloves do more than resist ink stains; they protect you against blood-borne pathogens that may be small enough to pass through non-medical grade rubber.
These gloves are 3.0 mil making them ideal for those who don't want an extra thick glove. The tattoo industry needs a glove with a minimum of 3.0-millimeter thickness to not tear during the process. 
Piercing artists will benefit from the lower costs while maintaining medical-grade protection.
Conclusion
VersaShield Black Nitrile Exam Gloves are manufactured by Medline, meaning you can trust that what you receive will be made with quality, ethically sourced raw materials combined to create a highly effective product.
VersaShield Black Nitrile Exam Gloves, Manufactured by Medline the #1 Hospital Brand
Heavy-duty nitrile rubber is suitable for light tasks
Preferred choice for those who demand uncompromising quality and protection.
Lightweight strength, excellent donning characteristics and textured fingertips for enhanced grip and control.
Manufactured by Medline, the #1 Hospital Brand trusted by millions of doctors across the USA and the world for consistent quality and high standards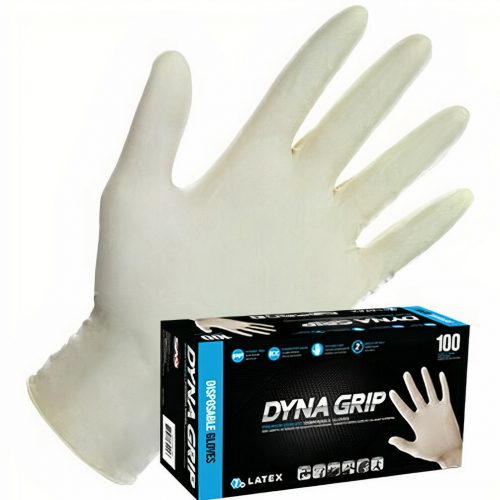 Tattoo artists generally are apprehensive about buying extra thick gloves because they believe it will negatively impact their grip. However, this is not the case with DynnaGrip Latex Exam Gloves.
DynaGrip has advanced technology to maximize grip for precision tasks done by mechanics, tattoo artists, and people doing body piercings. Unlike many gloves, the natural latex rubber is medical grade and resists tears and rips.
The 7.0 mil thick material is 7x more viscous than the competition and can withstand heavy-duty applications. 
Conclusion
DynaGrip latex gloves outlast the competition with 7.0 mil rubber that. is 7x thicker than the competition.
The extra thick rubber resists blood borne pathogens ensuring the safety of the tattoo artist because cross contamination is avoided.
Your tattoo parlor can benefit from Latex Exam Gloves approved by the FDA. These are the same gloves found in your local doctor's office.
DynaGrip Latex Exam Gloves, FDA Approved Medical Grade, 7.0 mil Natural Latex Rubber
Heavy-duty nitrile rubber is suitable for light tasks
Preferred choice for those who demand uncompromising quality and protection.
Lightweight strength, excellent donning characteristics and textured fingertips for enhanced grip and control.
Manufactured by Medline, the #1 Hospital Brand trusted by millions of doctors across the USA and the world for consistent quality and high standards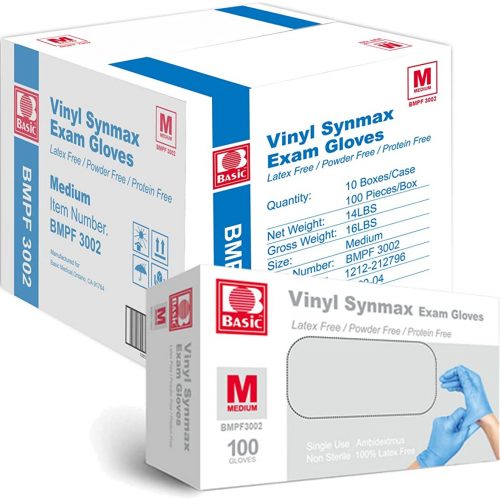 Vinyl gloves got a big upgrade by the Basic brand by mixing in a proprietary blend of nitrile rubber to create the perfect low-cost medical exam glove.
The material is 3.2 mil thick vinyl and nitrile blended together. The gloves grip comfortably to your hand and have a similar feel and grip to nitrile but at half the cost. Vinyl blend gloves are a great deal.
If you've used vinyl in the past you may be resistant to try them but we encourage you to compare them to your current latex or nitrile gloves and come to your own conclusion. Our customers love their feel and price.
Conclusion
Basic Medical Vinyl Blend gloves outlast the competition's vinyl while being more comfortable, puncture resistant, and less expensive.
These vinyl gloves are a great deal.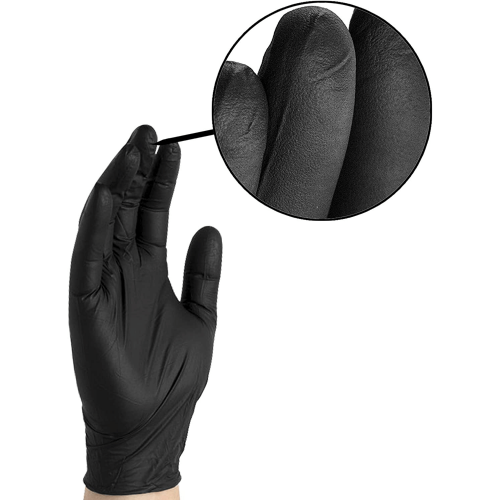 There's a few reasons Duraskin Black Nitrile Gloves are so highly rated by us.
First, the brand produces consistent quality gloves that you can rely on. We even rated these model of gloves (2015w) as the 4th best food handling gloves.
Second, these gloves are 4 millimeters thick which still allows tattoo artists to operate delicate instruments with precision. The nitrile rubber is industrial grade and has the same quality and comfort expected by any nitrile rubber glove.
It is more expensive than latex, but tattoo artists tend to prefer black nitrile over white latex to hide ink stains.
Some other attractive features of the 2015W include:
100% Powder Free
4x thicker than alternatives
100% Latex Free
Wholesale Pricing
DuraSkin Nitrile Gloves sold by Harmony Lab & Safety Supplies come with U.S. based product support. You can give them a call if you have any questions and they guarantee your item will arrive safely. 
Conclusion
Duraskin Black Nitrile 2015W Gloves are a good balance between cost, durability, and comfort. They easily hide ink stains and wont tear with careful use.
The brand is trusted and recommended by those in the industry. Although it isn't as flashy as other brands, the gloves can be 30% less expensive than alternatives. 
Doctors and nurses trust Duraskin, so you should too! Try it out today.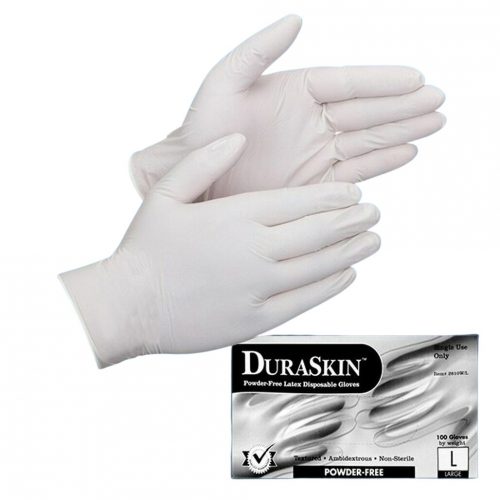 DuraSkin Latex Gloves are industrial grade and suitable for medium duty activities that take place in your tattoo parlor. Latex rubber has a natural chemical resistance to hazards you will encounter when tattooing. 
Latex is known for being the most comfortable and grippy disposable glove material. Wearing latex gloves while tattooing promotes good health.
The fingertips are fully textured for precise tasks and offer puncture resistance suitable for long sessions.
Conclusion
Duraskin is trusted by doctors, nurses, and healthcare professionals for consistent gloves. Don't let gloves get in the way of your work.
5.0 mil thick latex rubber is highly durable without hampering your ability to operate delicate instruments found in tattooing and piercing.
What is the Best Tattoo Glove Brand?
SAS Safety has decades of experience manufacturing quality gloves in ISO 9001 Factories.  So the answer to your question "who makes the best tattoo gloves?" is SAS Safety Corp, the manufacturer of DynaGrip Latex Gloves and Raven Black Nitrile gloves.