You might think that all disposable gloves are created equal, but that's simply not the case. In fact, disposable gloves are available in a variety of options, each made with their own distinct purposes in mind. Since 20% of on-the-job accidents involve employees' hands, selecting the proper type is essential to safeguarding your teams' well-being. Additionally, using the incorrect type of glove for your intended application could damage materials and equipment, which is too costly a mistake for any company to make.
Two of the most common places where disposable gloves are used are cleanrooms and environments where medical exams take place, such as doctors' offices. Here, we'll discuss the key differences between cleanroom gloves and exam gloves to illustrate the importance of selecting the right type.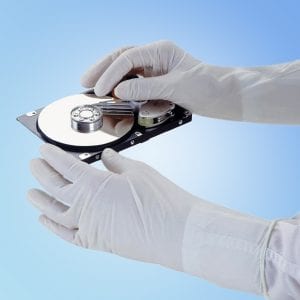 Work areas that must remain free from contaminants like dust are known as clean environments (AKA Cleanrooms, or Controlled Environments). It's also critical for these spaces to be free of other pollutants, including chemical vapors, aerosol particles, airborne microbes, and even static electricity. Most often, these special locations are found within companies that manufacture electronic components, as intricate and sensitive parts such as microchips could become compromised if exposed to any contaminants. Other industries in which cleanrooms are used include pharmaceuticals, scientific research, and aerospace semiconductor engineering.
Minimize sub-micron particle contamination by using gloves designed and manufactured for Cleanrooms. Because the need for reducing contaminants is so great, not just any type of disposable glove will do. Cleanroom gloves are designed and processed according to stringent requirements so they'll be safe for use in controlled sterile environments. Materials like nitrile, for instance, are known to reduce particle transfer and can be used in both wet and dry handling.
Depending on the application, certain cleanrooms have different classes. A Class 1,000 cleanroom, for instance, means that no more than 1,000 particles of .5 mm or larger are permitted per cubic foot of air. This is known as a class ISO 4 cleanroom. The lower the number, the more sensitive the environment.
Disposable cleanroom gloves are available for use in various classes of cleanrooms. Most importantly, when purchasing gloves, it's a good idea to make sure they were produced in cleanroom environments; otherwise, they could contain contaminants. The V-Clean cleanroom nitrile gloves carried by Harmony Business Supplies, for instance, were produced at ISO 5 levels and are thus considered safe for use in class 1,000 to 10,000 cleanrooms. Choosing the most appropriate glove is one of the most important cleanroom consumable decisions.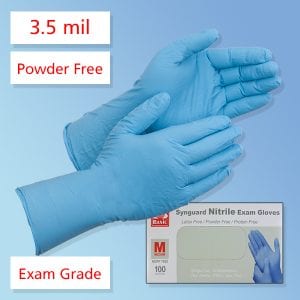 This variation is typically the first to come to mind when we think of disposable gloves. While they can be made from a variety of materials, the primary purpose they serve is to keep both the medical professional and the patient protected against transfer of bacteria, microbes, or any other substances. At the most basic level, they are simply a barrier to block the wearer's hands from coming into contact with pathogens.
Because keeping the wearer's hands safe is of utmost importance, the primary quality to look for in exam gloves should be thickness. Gloves should thus not tear easily, even when friction is applied. Nonetheless, mobility is another factor to consider, so the thickness of the glove should not impede the wearer's ability to use their hands freely.
Additionally, for the patient's protection, gloves should be switched out in between every new exam. Due to the frequency of changing them, exam gloves should be cost-effective enough to replace them often, which is why disposable options are the go-to choice among medical facilities worldwide. Gloves used in the medical field should also be easy for the wearer to put on and take off quickly.
Another factor to consider when purchasing exam gloves is the material. Latex, which is a natural material made from rubber, has been a leading choice for many years. Latex gloves are an excellent option for a number of reasons: they boast exceptional comfort and dexterity are a cost-effective choice, are lightly powdered to be put on and off with ease, and are biodegradable.
Nonetheless, some people are allergic or sensitive to latex, and increased exposure to the material can actually make a person more susceptible to developing an allergy to it, according to the American College of Allergy, Asthma & Immunology (acaai.org). For this reason, alternate materials such as vinyl and nitrile are becoming increasingly popular in medical settings, and are at least a good idea to have "on hand." Nitrile is also significantly more puncture resistant than latex, providing extra protection against needles and sharps.
Whether you need latex cleanroom gloves or medical nitrile gloves, Harmony has you covered. With a large selection of options to choose from, their online store features gloves in various materials and sizes to suit every application imaginable. You can place your order now or speak with a knowledgeable product specialist for additional information. Cant decide between latex or nitrile glove? Contact-Us!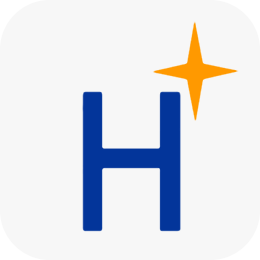 Justin Hines is an author at Harmony Supply Blog. With over a decade of experience working with cleanrooms, controlled environments, and industrial manufacturers, Justin Hines provides content to Harmony Lab & Safety Supplies.