A Clean Firearm is a Happy Firearm
Use Gun Cleaning Swabs for the most Bang
Proper gun cleaning is critical to keeping firearms in the best possible working condition. Cleaning guns after each use preserves their safety and durability by removing residue buildup.
Something as seemingly insignificant as powder residue can impact the accuracy of a firearm. You certainly don't want to gamble with whether you're at the range or in combat. A small – but mighty – tool to consider adding to your kit is a pack of gun cleaning swabs.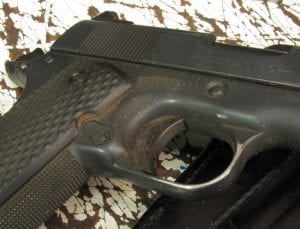 Another downside of failing to properly clean your gun is that it will be more prone to rusting and similar forms of permanent degradation. You might not think it's necessary to clean your gun after firing just a few rounds through it.
But even the salt from your palms can damage your weapon! Since most guns are considerable investments, keeping them well-maintained is necessary for preserving their value.
The Better Way To Clean
One of the best ways to keep your gun free of dirt and debris is to clean it using the best possible tools. While each firearm collector likely has their favorite go-to cleaning kit, it's a good idea to consider upgrading your supplies every now and then. This is especially true if you've been hitting the range more often recently!
The nooks and crannies of your weapons can be difficult to clean with traditional brushes and cloths, which is why foam and cotton-tipped applicators can come in handy. Tight spaces like the bore of the barrel need to be cleaned, but only a small swab will be able to get in there and completely rid the area of buildup.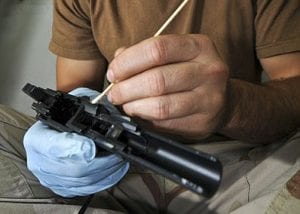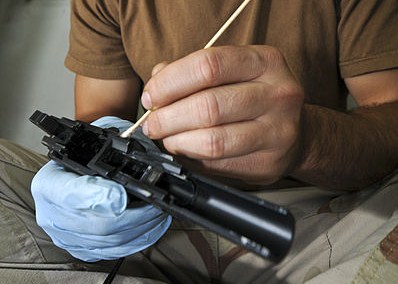 Each gun has its own small space which can benefit from a thorough cleaning using an applicator and the solvent. With semi-automatic weapons, the areas beneath the ejector, contact points between the frame and slide, and the slide's interior grooves can all attract residue. Revolvers can accumulate debris in the forcing cone, cylinder ratchet, and along the face of the cylinder.
Gun Cleaning Swabs Make Cleaning Easy
If you own multiple types of firearms, having different sizes and types of swabs on hand can be useful. For instance, Puritan makes low-lint swab 6" cotton applicators, which are ideal for cleaning most types of guns. If you have weapons of larger calibers and longer barrels, however, you may need longer applicators, such as the 8" shaft swab. Some gun owners also prefer anti-shedding, lint-free, foam-tipped swabs.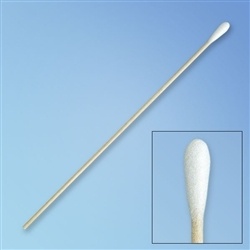 But don't just take our word for it. Even the U.S. military agrees that foam and cotton swabs are the best tools for effective firearm cleaning. Swabs are utilized by servicemen and women to ensure the utmost level of cleanliness, functionality, and safety of their firearms.
Both active duty and veteran shooters know the importance of having a clean gun. Which is why they turn to these powerful little products whenever it's time to clean their weapons.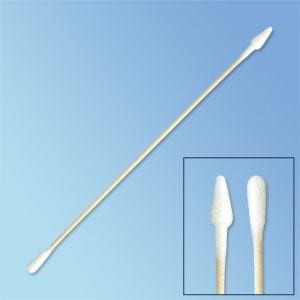 If you're a firearms owner and would like to purchase some gun cleaning swabs to include in your gun cleaning kit, visit Harmony Lab & Safety Supplies online to browse through your options.
Speak with a product specialist to find which gun cleaning swabs are the right fit for your needs.