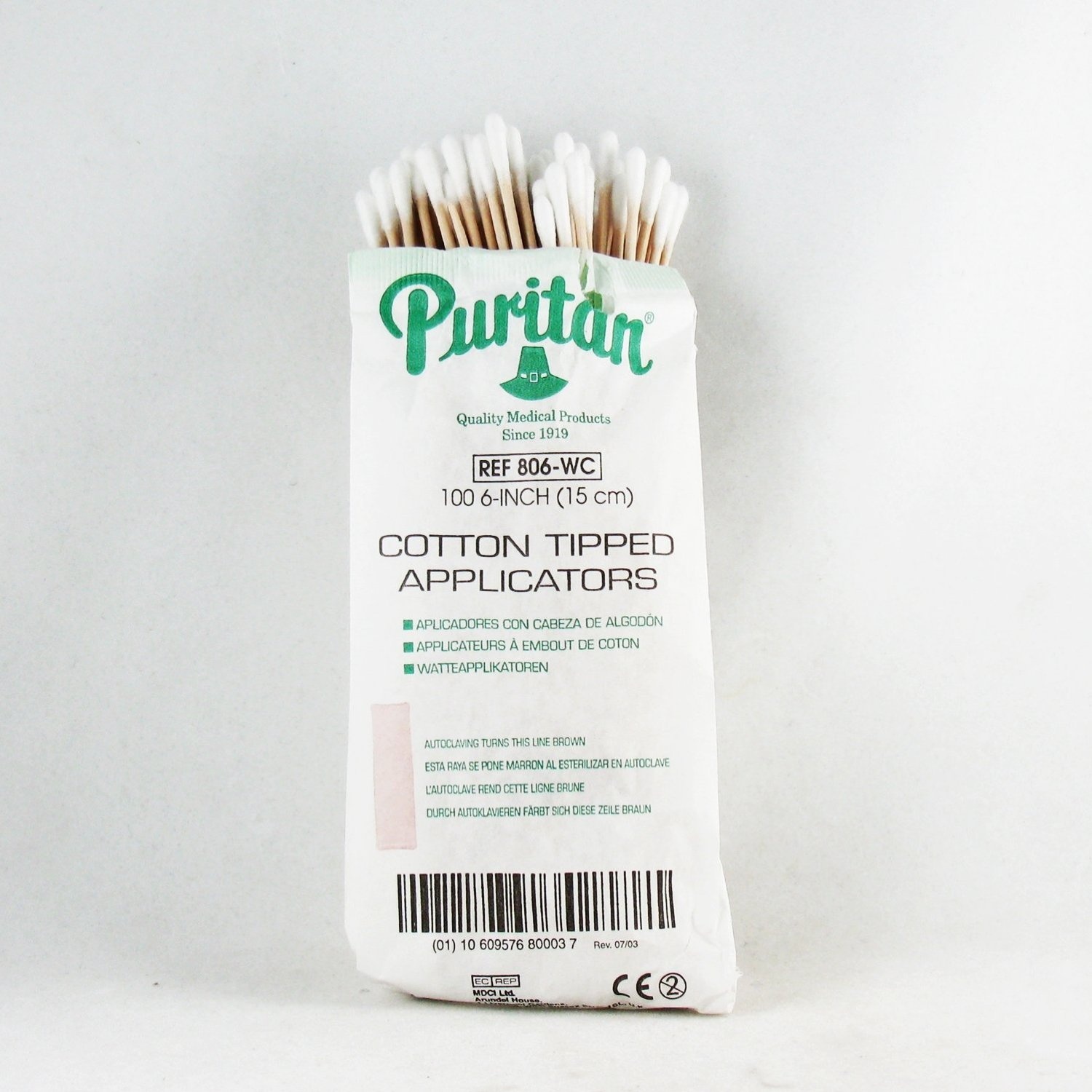 Summary – The best long cotton swabs offer a good value for your money and are sturdy, absorbent, thick, and made from high quality pharmaceutical grade cotton fibers.
Whatever you need long cotton swabs for, we have you covered. We have decades of experience providing long cotton swabs to hospitals, long-term care centers, urgent care facilities, and industrial manufacturers.
Look for what you need in the table below and click through to see relevant customer reviews.
The Best Long Cotton Swabs on the Market in 2022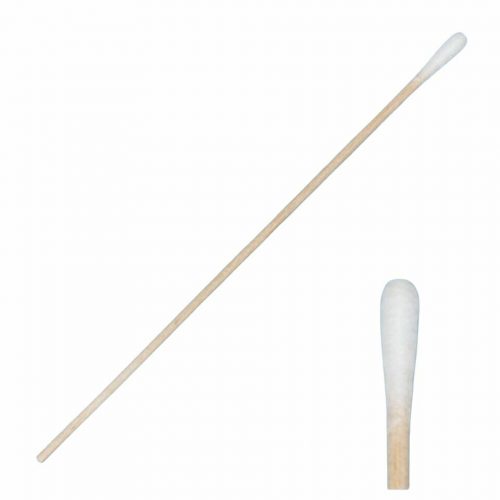 These 6″ long cotton swabs by Puritan Medical Products are made of the highest quality pharmaceutical grade cotton fibers making them ideal for applications that require consistency. 
Puritan swabs meet the highest standards making them suitable for industrial and medical usage:
CE marked for medical use
ISO 9001:2008
ISO 13485:2003
FDA GMP's
Apply salves or ointments, care for wounds, or collect specimens with these medical grade swabs.
For industrial use you may apply adhesives, remove contamination, and clean with isopropyl alcohol. These swabs are bonded securely to a rigid white birch wooden shaft with an adhesive. 
Puritan 806-WC 6″ Long Cotton Swab
U.S. Pharma Grade Cotton – Highly absorbent cotton made from U.S. Pharmaceutical grade cotton fiber to ensure consistency of the tip and a soft non-abrasive finish.
Seamless – High quality cotton swab with no exposed edges. Compatible with most solvents/chemicals. Non-Sterile.
Regular Tip Size: About the size of a standard q-tip. 15.875 mm (.625″) L x 4.775 mm – (.188″) Dia.
Made in USA – Puritan Medical Products prides itself on its state of the art manufacturing facility in Maine, USA.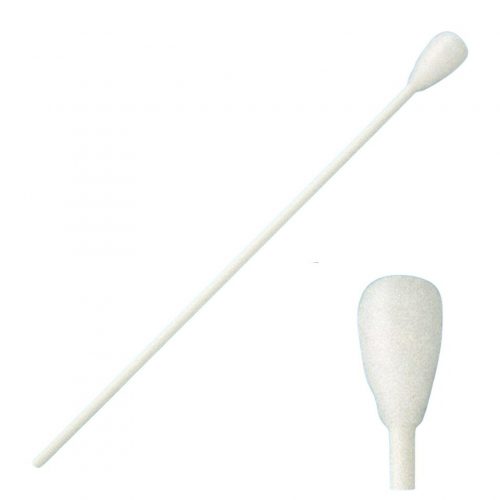 Puritan Jumbo Cotton Swabs are specially designed and the perfect size for treating your pet's ear infections, applying ointment to hard to reach areas, or for use in ceramics and arts and crafts.
These swabs are highly rated and highly reviewed by dozens of verified customers who all agree that this is the best jumbo tip swab on the market.
Depend on these high quality giant q-tips for your vet's office, high tech manufacturing facility, or your specific household use.
Puritan 8″ Long Jumbo Tip Cotton Swab
Soft & Extra absorbent jumbo cotton swab for cell collection or cleaning large areas.
Non-sterile oversized applicator with cotton tip and paper shaft.
Tip Size: Jumbo 28.575mm (1.125″) length, 12.7mm (0.5″) diameter.
Overall Length: 207.975mm (8.188″), Paper shaft.
Made in USA.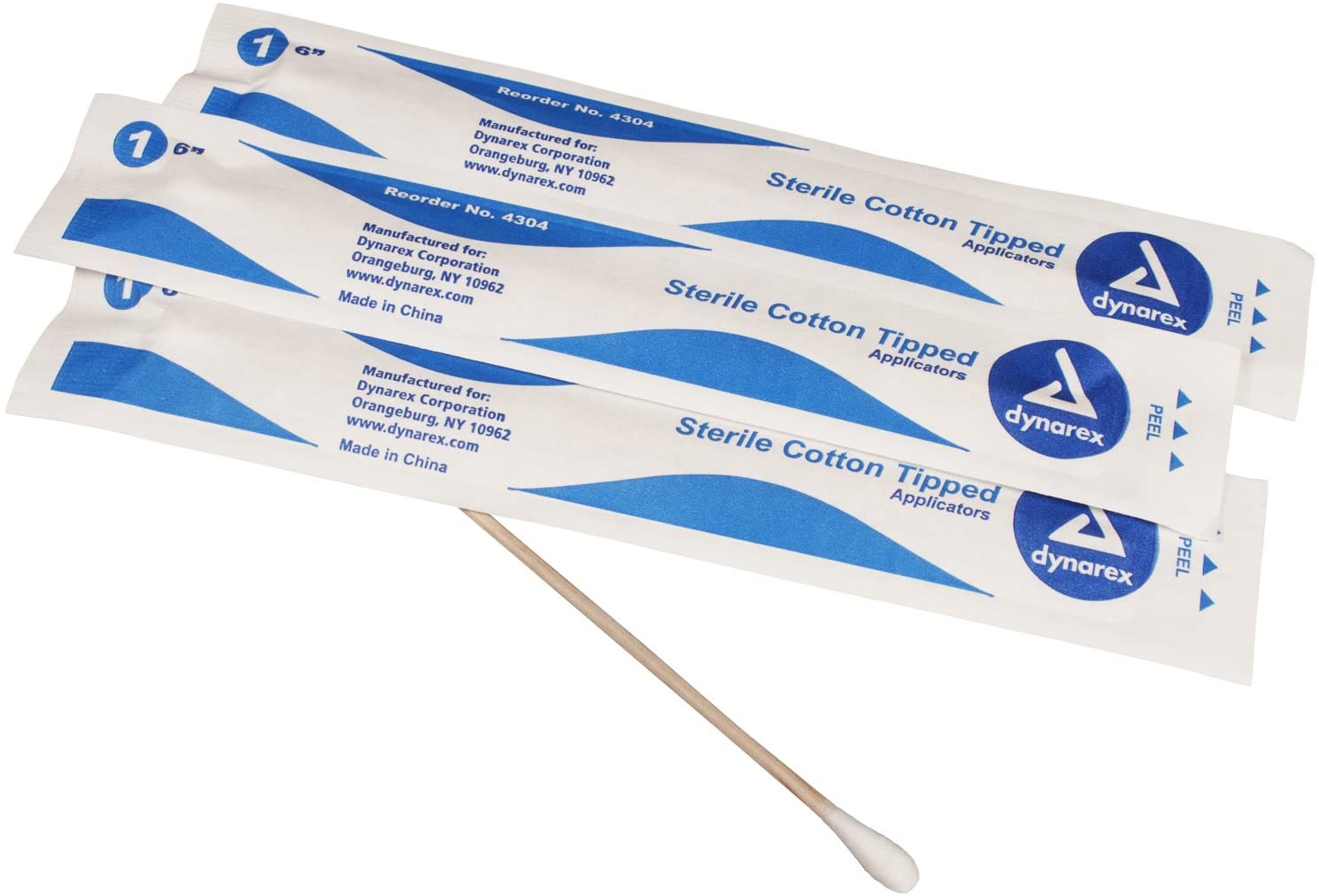 Dynarex 4304 Sterile 6″ Cotton Swabs are individually wrapped medical grade long cotton swabs that can be used for specimen collection, in-site preparation, and cleaning instruments. 
Sterile swabs like these by Dynarex are suitable to use for specimen collection. The rigid wooden shaft wont break when collecting the samples you need.
Tattoo artists and estheticians may benefit from having sterile swabs on hand to apply ointment or clean minor wounds. The Dynarex 4304 is not suitable as diagnostic swabs because the material is not free of DNA debris.
Conclusion
If you need an affordable and effective sterile 6″ cotton swab, then choose Dynarex 4304.
Dynarex Sterile 6″ Long Cotton Swab
For general-purpose use, as a medication applicator, for wound dressing and cleaning.
Sterile cotton swabs are individually wrapped in convenient peel-apart pouches – always fresh.
Highly absorbent cotton swab tip manufactured to uniform length and shape.
Tip Size: Regular Tip 15 mm (.59 in.) L x 5mm (.197 in.) D.
Overall Length: 152.4mm (6in.). Birch Wood shaft.
How Do You Choose the Best Long Cotton Swab?
When precise cleaning is required, you may benefit from choosing the 6″ cotton swabs with different tip shapes. Pointed and conical tips are common throughout industrial and medical settings that need to clean instruments and collect specimen. 
Puritan Medical Products has over a century of experience manufacturing the highest quality long cotton swabs for medical and industrial use.
What is the best long cotton swab brand?
When it comes to long cotton swabs, the best brand depends on your application. Cleanroom critical environments may benefit from Chemtronics or Cleantex. For medical settings and general use we recommend Puritan Medical Products.
You wont find a company with more history of swab success than Puritan Medical Products for household, medical, and industrial use.
Choosing the best long cotton swab doesn't have to be difficult. Each swab on this list has its benefits and you're sure to find out to fit your application. If you're unsure don't hesitate to reach out to our swab experts standing by to support you.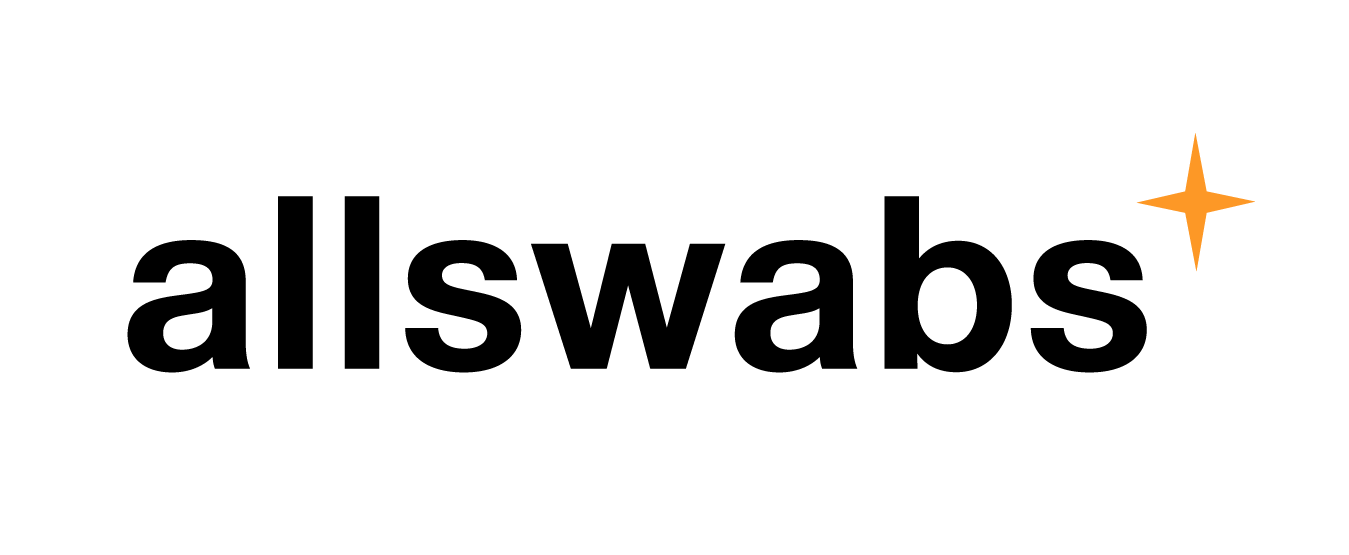 AllSwabs.com is operated by Harmony Business Supplies, Inc. – AllSwabs.com carries swabs and applicator for all industries. Free Shipping when you order over $150 or pay just $5.99 within the United States. You can always find our full product offering at Harmony Lab & Safety Supplies. You'll always receive the same promises and guarantees, fast shipping, and personal customer service.